Riding the Digital Transformation Wave
Opportunities and challenges abound as a global business evolution takes flight
Companies across the globe have been digitizing their businesses at a remarkable pace over the last decade, and the evolution doesn't appear to be slowing anytime soon. By 2020, the number of Internet-connected devices is expected to reach 75 billion1 and companies are predicted to manage 85% of their relationships without even talking to a human. Increasingly, organizations are relying on digital assets to drive the user experience, with a typical enterprise managing 268 customer-facing web properties2.
Technological innovation and accelerated enterprise adoption have triggered advancements in analytics, cloud computing, mobile, and social media that are not only improving the customer experience, but also revolutionizing internal business processes such as commerce, quality assurance, and supply chain. These rapid developments in technology are driving an even greater need for value-additive, technology-enabled services that support the implementation and execution of these strategies. Architecting and optimizing a full digital experience delivery platform represents new and uncharted territory for many marketers. To keep pace, companies must do more than update their websites. They must interface and engage with consumers at every stage of the digital lifecycle.
The Evolving Portrait of a Digital Business
What does digital transformation look like across industries? Picture the following3:
A U.S. utility provider anticipates the needs of customers by alerting them of challenges and proactively sharing progress updates, leading to greater efficiency and associated cost savings.
A Fortune 100 company utilizes wearables to encourage healthcare gamification to reduce insurance expenses.
A hotel chain recreates an online booking experience to replicate the customer experience of speaking to a live person
A London-based retailer utilizes mobile advertising, which is growing at almost 20% per year in the U.K., to improve the in-store shopping experience.
While the shift towards a digital model is inevitable, it is certainly not easy. By 2020, half of all enterprise revenue will be driven by digital channels, yet only 25% of executives have an understanding of how digital can drive value. In 2015 alone, 70% of digital business initiatives failed to deliver growth due to lack of truly sustainable business model and process adaptability4.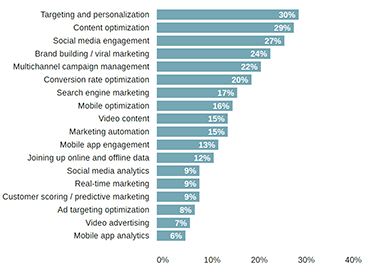 (Click for a larger view)
As part of a survey conducted by Econsultancy, more than 2,000 respondents noted their top three digital-related priorities for their organizations in 2015.
The Need for Digital Experts
Digital transformations can completely revolutionize current business operations, requiring new technology, new strategies – even an entirely new culture. However, the primary issue is not a company's lack of sincerity; it's a lack of talent, As the digital evolution continues, companies do not have the internal resources to keep up. While software options like Customer Experience Management (CXM), a technology platform designed to optimize customer engagement across all digitally-enabled touch points, are becoming critical, effective digital initiatives go beyond software, targeting improvements in innovation and strategic decision-making and invariably transforming how the business works.
As a result, digital consulting has emerged as a multi-billion dollar industry designed to address these issues, tying together effective software implementation with digital strategy and analytics. Traditional advertising agencies are enhancing their ability to work strategically alongside software tools. Big management consulting firms are looking to expand beyond strategy, IT, and operation to reposition themselves as digital experts. In addition, many pure-play competitors are emerging to offer technology-oriented design and user experience solutions to companies in need of a digital facelift. These firms and many like them are helping businesses in the midst of digital renovations address critical software deficiencies to meet consumer demand for engaging experiences.
Finding the Right Global Partner
Baird Capital stays abreast of these constantly evolving digital market trends by actively engaging with entrepreneurs and strategic players on a global basis and working alongside our management teams to drive growth within our investment portfolio. Through our relationships and investments, we can better understand how mobile engagement is enabling improvements in hospital-to-patient communication, and how industrial businesses are deploying and scaling machine-to-machine technologies to optimize sales and operations.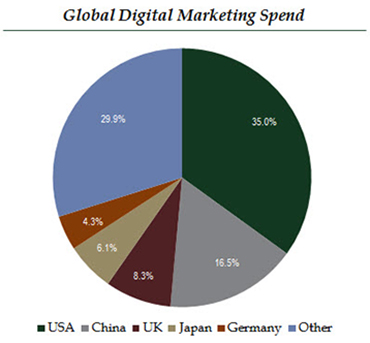 (Click for a larger view)
Baird Capital has been leveraging our global capabilities and industry experience to help partner companies grow for over twenty-five years. With the U.S., U.K., and China leading in digital spend, we have tactically positioned our team, with offices in Chicago, London, and Shanghai, to generate organic and inorganic geographic expansion within our portfolio companies. Furthermore, we have developed expertise within digital transformation through investments in businesses like Wordstream, Signal, and Myelin Communications. Technology disruption across sales and marketing is a global phenomenon – one that is driving a need for implementation, strategy, and analytics – and we look forward to utilizing our cross-border model to effectively pursue and grow businesses in the digital consulting space.
Chicago-based Baird Capital is the private investment arm of Robert W. Baird & Co., which makes venture capital, growth equity and private equity investments in strategically targeted sectors around the world. John DiGiovanni is a Vice President with the Private Equity Team, and Andrew Ferguson is a Partner with the U.K. Private Equity team based in London.
1Danova, Tony. "Morgan Stanley: 75 Billion Devices Will Be Connected To The Internet Of Things By 2020." Business Insider. October 2013.
2Anjali Yakkundi. "The State of Digital Experience Delivery, 2015,." Forrester. December 2015.
3David Brown, Sonny Chheng, Veronica Melian, Kathy Parker & Marc Solow, Global Human Capital Trends 2015, Culture and Engagement, Deloitte University Press, 2015.
4Plummer, Daryl, et.al. "Top 10 Strategic Predictions for 2015 and Beyond: Digital Business Is Driving 'Big Change'." Gartner. October 2014.
A full listing of Baird Capital's investments can be found at http://www.bairdcapital.com/portfolio/baird-capital-portfolio.aspx.