Mountain High or Valley Low?
Key Considerations in Current SaaS Valuations
It's one of the most persistent questions in the SaaS world: Does investing in growth at the expense of profitability impact valuation, and to what degree? In the early days, many SaaS businesses focused on growth and ignored profitability, burning an immense amount of cash along the way. However, an increasing importance has been placed on profitability in recent years. Growth at all costs is no longer an acceptable strategy to many SaaS investors.
Baird recently completed an analysis of SaaS, revealing a real-time snapshot of valuation trends as of Q2 2017. Our analysis revealed a number of trends, including:
Revenue growth and EBITDA margin are the most important financial metrics-based drivers of valuation
Despite the influence of margin on valuation, growth remains king and is ~3x as important a driver of valuation as EBITDA margin
Surprisingly, gross margin and scale do not appear to have a meaningful impact on valuation multiples
The full output of our analysis appears below, as does Baird's recent SaaS and software transaction experience.
Margin Matters: Correlation of Multiples to Growth and EBITDA
While software multiples in recent periods were most highly correlated with combined "revenue growth + EBITDA margin," revenue multiples are now most highly correlated with revenue growth.

View Larger

View Larger

View Larger
Source: Capital IQ as of June 30, 2017.
Note: Charts above reflect metrics for Baird's Software index, comprising ~200 publicly traded SaaS and traditional software companies.


SaaS Companies Have Maintained Valuation Levels and Growth Attributes
Valuations continue to benefit from scarcity value, increased understanding of SaaS models and investors seeking growth.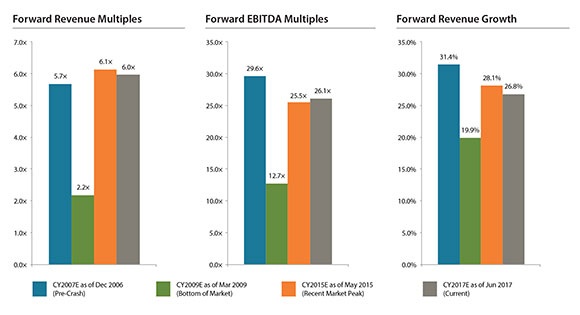 Source: Capital IQ as of June 30, 2017.
Note: Charts above reflect metrics for Baird's SaaS index, comprising ~75 publicly traded SaaS companies.


What Do Public Market Valuations Mean for Your SaaS Company?
Baird's Four-Factor Regression Model
We analyzed 2017E revenue growth, gross margin, EBITDA margin, size (revenue) and current EV for ~45 SaaS companies
R2 of 0.79
Predicted EV multiple is explained as follows:

Growth: ~70%
Gross Margin: ~0%
EBITDA Margin: ~20%
Size: ~0%

Surprisingly, gross margin and scale (size) of businesses do not appear to have any meaningful effect on public SaaS valuation multiples
We have run three illustrations of this model:

High Growth, Low Margin (30%, 0%)

Modest Growth and Margin (15%, 15%)

Low Growth, High Margin (5%, 30%)
Source: Capital IQ as of June 30, 2017.
Baird's Recent SaaS and Software Transactions