Baird is strong, profitable and expanding our global reach and capabilities to best meet our clients' needs. Because we're employee-owned, we have a huge stake in making sure we do things right. This drives the way we've structured, grown and continue to run our firm: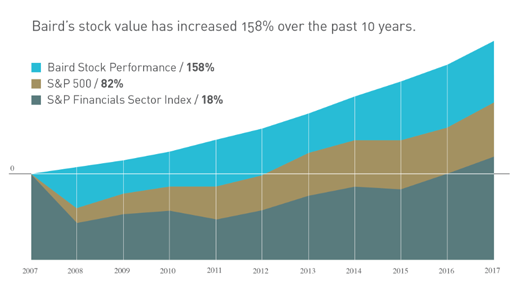 Our five core businesses help to balance our sources of revenue and broaden our capabilities for clients.
We've grown in times when many competitors were restructuring or downsizing.
Our net capital is well in excess of regulatory requirements.
We have been conservative in our use of debt and have significant unused bank commitments.
Baird offers client account protection in excess of SIPC limits through a special Lloyd's of London insurance policy.
Of course, our real strength comes from the trust and confidence our clients place in us, best exemplified by more than $200 billion in assets they have entrusted to us.

View Baird's Statement of Financial Condition reports.