Having served municipal clients for decades, Baird continues to broaden our experience and talent as one of the nation's leading middle-market fixed income teams. Our uniquely talented group of bankers and analysts combines the experience of traditional regional municipal finance with key leadership roles in major local- and state-level financings, creating long-term financing solutions for a variety of sectors. Combined with a premier underwriting desk and seasoned sales and trading professionals, we continue to develop innovative structuring solutions and provide the highest level of execution for every issuer we serve.
Education

icon: toggle
K–12 and Independent School Districts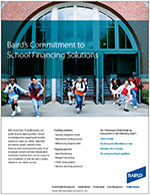 Baird is widely regarded as one of the country's top advisors and underwriters to K–12 and independent school districts. Click here to learn how schools like yours can benefit from our expertise and services, or email us at k12publicfinance@rwbaird.com.
Higher Education
Through extensive experience with higher education bond financings and innovative techniques, Baird's banking team led more than 180 Higher Education facility and refinancing projects with a par amount of more than $3.2 billion. Of these financings, Baird senior managed 150 transactions totaling approximately $1.9 billion.
For more information about our Higher Education capabilities, please contact our team at HigherEdPublicFinance@rwbaird.com.

Learn more.
Charter Schools
Since 2003, our team has completed more than 140 charter school facility financings nationwide for more than $2.6 billion of improvements through taxable and tax-exempt bond issues; New Market Tax Credits; bank, CDFI and private loans; and alternative funding sources.
For more information about charter school finance, please contact our team at charterschoolfinance@rwbaird.com.
School Business Solutions
Baird's School Business Solutions team focuses on the financing needs of Wisconsin school districts. We offer the following services:
Baird Budget Forecast and Comp Modules
Administrative staff transitions in school district business offices
School finance presentations and workshops
For more information about School Business Solutions, please contact our team at
SchoolBusinessSolutions@rwbaird.com
.
Government

icon: toggle
Municipalities and Counties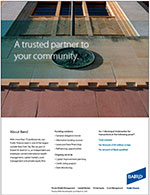 Baird is ranked No. 1 among senior managing underwriters for cities and counties across the country based on number of issues from 2011 – 2015, according to Ipreo MuniAnalytics, and served as senior managing underwriter, advisor or private placement agent on more than 2,225 issues totaling $21.8 billion in funding for over 1,300 issuers. Click here to learn how our comprehensive financial services can address your community's needs.
Special Districts and Authorities
Special districts and authorities have unique debt structures and financing challenges and Baird has bankers that specialize in serving these entities. Learn more about our customized solutions and dedicated teams in Public Finance.

For more information about our Special Districts and Authorities capabilities, please contact our team at SpecDistPublicFinance@rwbaird.com.
Transportation
Baird's Public Finance bankers serve transportation authorities, agencies and states nationwide through our institutional knowledge of transportation programs around the country and experience working with rating agencies and major institutional investors in transportation bonds. We helped create financing solutions to meet the growing demands of mass transit systems, highway programs, airports, toll authorities and state Department of Transportation projects for several large transportation organizations such as:
Chicago Transit Authority
City of Chicago – O'Hare Airport
Illinois Toll Highway Authority
Harris County, Texas
State of Hawaii Department of Transportation Harbors Division
Commonwealth of Massachusetts
Pennsylvania Turnpike Commission
Oklahoma Capitol Improvement Authority
City of Phoenix Civic Improvement Corporation
Ohio and Wisconsin Departments of Transportation
This experience, combined with a national distribution network that understands and regularly purchases transportation issues, continues to grow Baird's reputation as a leader in the transit sector.
For more information about our Transportation capabilities, please contact our team at TransPublicFinance@rwbaird.com.
Healthcare, Nonprofits & Housing

icon: toggle
Healthcare and Senior Living
Our unique understanding of healthcare debt, market trends and project development has created successful financing opportunities for hospitals, healthcare systems, and senior living facilities nationwide. Learn more about our customized solutions and dedicated teams in Public Finance.


Nonprofits
Baird has always placed a strong commitment toward supporting our communities and the nonprofit sector. Our banking team has assisted in developing, communicating, managing and executing financing solutions for nonprofit groups eligible for tax-exempt financing nationwide, including hospitals, nursing homes, schools, cultural institutions, community associations and other 501(c)(3) organizations exempt from federal income tax. While remaining consistent with their mission, vision and purpose, we collaborate with their administrations, boards and volunteers from the beginning to make their vision a reality. A bedrock of Baird's culture, our associates are actively involved in giving back to the communities we serve, aligning us with these nonprofits' long-term goals.
For more information about our Nonprofits capabilities, please contact our team at NonprofitsPublicFinance@rwbaird.com.
Housing and Real Estate
Baird's state and local government banking professionals have experience in selling tax-exempt housing bonds, commonly known as mortgage revenue bonds and multifamily housing bonds. With service in structuring analysis and funding solutions for student housing, affordable housing, multi- and single-family housing, elderly housing, assisted living and independent living – as well as utilizing different credit options for these bonds, including FNMA, GNMA, FHA, bond insurance and letters of credit – we have the structuring expertise to assist in any type of housing issue.
For more information about our Housing and Real Estate capabilities, please contact our team at HousingPublicFinance@rwbaird.com.