HR Tech Notes: Beyond Digital
How mobile, social and analytics will drive the next chapter of disruption in the Human Capital Management sector
The Human Capital Management ("HCM" or "HR") field has evolved rapidly over the past decade. Technology has revolutionized how employers and employees tackle sourcing, recruiting, onboading, workforce management and performance management. Today, social, mobile and analytics technologies are driving another wave of transformation in HR, presenting significant opportunities for entrepreneurs and investors.
The Evolution of HR Tech: A Long Way in Little Time
The first wave of tech-enabled HR digitized traditionally labor-intensive and paper-based processes for both employer and employee. Just 10 years ago, companies such as CareerBuilder, SuccessFactors, Taleo, Fieldglass, Lawson, SumTotal and Ariba pushed boundaries within specific HR functional areas with their innovative offerings. Enterprise software leaders such as IBM, SAP, Oracle, Cornerstone OnDemand, ADP and Infor led consolidation in the sector by acquiring a number of market disruptors in an effort to build comprehensive suites of solutions.
Today, a new set of players (see chart for selected examples) is building upon the mere digitization of HR processes through the integration of mobile, social and analytics capabilities. A number of offerings in the market today are making candidate sourcing, applicant tracking, talent management and workforce management ubiquitous, decentralized and smarter.
By Functional Area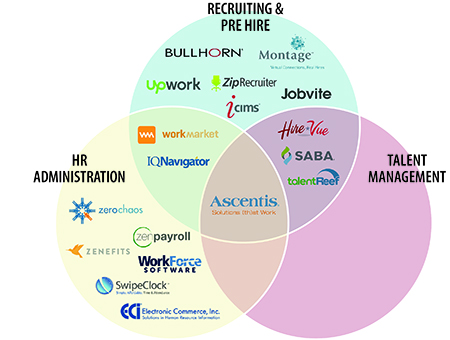 (click to view larger)

By Technology Type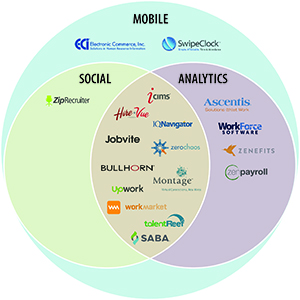 (click to view larger)

*Source: Baird, select HR Tech disruptors
Mobile: Extending HR Beyond the Office
Mobility solutions are enabling employers to access and engage with candidates when and where they prefer.
"Modern businesses are becoming more and more hyper-concentrated. Employers are now expected to provide access to infrastructure, systems and processes that allow employees who are traveling, working remotely, or during off hours, the same level of productivity as if they were 'in the office', all through multiple types of mobile devices and platforms," said DJ Chhabra, CEO of Ascentis.
Ascentis Software offers a touch-optimized mobile version of its software that can be used by employees and employers on any mobile browser and any device. This enables employees to manage and request time-off, access their company directory and act on workflow tasks through their mobile devices.
According to Chhabra, "Failure to provide mobile access to information decreases an employer's ability to be agile and responsive, and time becomes the enemy, all of which affects the business' bottom line."
iCIMS offers another example of mobility solutions. The company has mobile-optimized the entire candidate experience provided by its suite of recruitment software solutions. This ensures a seamless and engaging experience for applicants during all stages of the hiring process – from researching career sites to ultimately applying and interviewing for a specific position.
According to Colin Day, CEO of iCIMS, "Job seeking and recruiting have changed forever. For example, a recent report from Glassdoor reveals that nearly 90% of job seekers are likely to use mobile devices during job searches. With candidate behavior shifting in recent years, social and mobile recruiting has gone from nice-to-haves to need-to-haves for any growing organization."
Social: The Killer App for Decentralizing Recruiting
Social solutions enable employers to scale and streamline the candidate lead generation process. LinkedIn made every member of its global user base an accessible candidate, and emerging HR tech solutions connect companies with would-be employees via existing social channels.
Jobvite and talentReef are two examples of recruiting platforms that enable current employee-contact referrals via social networks in order to source candidates that otherwise could have taken weeks or months to identify. talentReef is focused on the hourly workforce market, while Jobvite targets a mix of hourly and professional employees.
"We listened to our clients' and partners' concerns with multiple, ineffective recruiting channels (walk-ins, classified ads, job boards). We responded with a social recruiting platform purposely built for the hourly workforce," states John P. Raeder, Jr., CEO of talentReef. "Our customers have seen increased retention, improved time-to-fill metrics, and competitive advantage recruiting high potential hourly workers."
Analytics: Smarter Applicant Screening and Performance Management
Applicant screening and employee performance management may be two processes within the enterprise that could benefit most from increased objectivity through the application of data analytics.
Workday is making headlines with its recently launched Insight Applications platform, which merges legacy workforce data, external data resources and real-time data collection to deliver predictive insights on talent retention, resource forecasting and project profitability.
More recently, HireVue, a video recruiting technology company, completed a $45 million funding round, led by Technology Crossover Ventures. The capital will be used to enhance its Team Acceleration software, a recent offering that combines video interviewing and predictive analytics to help managers to make faster, more informed hiring decisions.
"Team leaders have long lacked the systems, tools, and data to effectively build and coach their teams, relying on poor gut instinct, static resumes, and expensive training programs that don't stick," said Mark Newman, founder and CEO, HireVue. "With video and predictive analytics, HireVue's TeamAcceleration technology removes the bias of gut decisions, giving team leaders a data-driven way to build killer teams and provide interactive, collaborative coaching opportunities."
A Win for All HR Stakeholders
While this piece highlights a few of the emerging players in the current wave of HR technology disruption, there is no lack of well funded, diverse technology vendors chasing and, frankly, leading many of these market opportunities. Think Cornerstone OnDemand, IBM, Infor, Intuit, Oracle, SAP, Workday and Ultimate Software, to name a few. However, like the adoption of digital technology by enterprise HR departments that became mainstream more than a decade ago, specialist technology vendors will capture a meaningful share of the adoption of mobile, social and analytics HR technologies in the enterprise over the next several years.
Baird expects that over the next few years, most of these emerging, specialist players will find their right long-term home within the larger enterprise software consolidators, whether as the next phase of their corporate ownership or subsequent to an IPO. We think this is a good thing for all stakeholders: investors, entrepreneurs, consolidators and enterprise HR departments.
Beyond the obvious financial benefit to investors and entrepreneurs, the consolidators will benefit from incorporating the products and practices of these specialists into their existing HR product suite. In addition, their broader end market footprints offer the opportunity to leverage a target's solutions and technology across a consolidator's non-HR verticals. This, in turn, stands to benefit the entrepreneurs of these acquired companies (successful integrations aside) as the end market and distribution footprints of these consolidators provide a platform to scale an acquired business beyond what could be achieved through further investment into a stand-alone company.
Learn more about Baird's comprehensive Technology & Services platform. >