Baird Advisors is an institutional fixed income investment manager and advisor to the Baird Bond Funds. We currently manage more than $32 billion in taxable and tax-exempt fixed income portfolios for clients.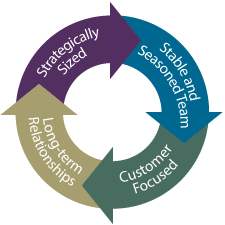 Baird Advisors is uniquely positioned due to our size, stable and experienced management team, and strong commitment to long-term client relationships. Our Portfolio Managers are personally involved with both the investment, service and communications aspects of our relationships, resulting in exceptionally long-term clients whose relationships with us on average exceed 12 years.
Supported by strong fundamental research, Baird Advisors' investment approach combines the science of understanding, measuring and controlling portfolio risks with the art of adding incremental, relative value to fixed income portfolio returns.
Our fixed income mutual funds are broadly available to investors on a direct basis or through most major brokerage channels.