Four Financial Resolutions (and Simple Ways to Keep Them)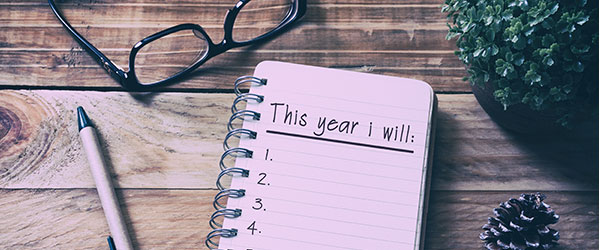 New year's resolutions are exciting to set and notoriously hard to keep – but that doesn't mean the failed ones need to be yours.
Keeping a financial resolution starts with practicing good habits every day, all year long. Here's are a few easy steps you can take to follow through on some of the most common financial resolutions:
1. Saving More




Get in the habit of saving a portion of your paycheck before you spend any of it. Look into setting up automatic payroll deductions to streamline your savings.
Build up an emergency fund. Strive to save three to six months of living expenses so you're prepared to cover an unexpected bill or other financial surprise.
Take a close look at your budget and watch for spending patterns. Think about how you could trim back or eliminate nonessential expenses to put some cash back in your wallet.
2. Paying Off Debt




Track your loans so you know exactly what you owe. Make a list of your outstanding debts, including the source, balance and interest rate.
Pay down loans with the higher interest rates first. Once you pay one off, redirect your payments to another loan instead of spending the cash.
If you can, pay more than the monthly minimum payment on any debt. The extra amount will help reduce the amount of interest you'll pay and ultimately retire the debt sooner.
3. Organizing Your Financial Life




Take a look at your beneficiary designations and estate plan on a periodic basis. This is especially important after a major life event, like a marriage, divorce, birth or death in the family. Make sure your designations and plan still reflect your wishes and adjust if needed.
File tax-related paperwork as it comes in throughout the year. You'll thank yourself when it's time to file and your paperwork is already in order.
Protect your financial life by signing up for a credit or identity theft monitoring service. An extra set of eyes could help catch a potential issue before it becomes an urgent problem.
4. Donating to Charity




Use online tools to learn more about nonprofits you're interested in supporting . Resources like Guidestar or Charity Navigator have lots of information on nonprofits' finances, operations and leadership.
Consider setting up a donor-advised fund so you can give strategically when a need emerges. This vehicle enables you decide when and how much to give – and receive an immediate tax deduction for your contributions.
Keep record of your charitable donations if you plan to itemize tax deductions. The IRS requires receipts for donations of $250 or more.
The best way to keep financial new year's resolutions is taking meaningful steps toward a big goal. A Baird Financial Advisor can help you design a plan to achieve your resolutions in the new year and beyond. Not a Baird client? Find a Baird Financial Advisor.