Baird Public Finance Adds Jeff Fivecoat in Columbus, Expands National Health Care Team
COLUMBUS, Ohio, Oct. 4, 2012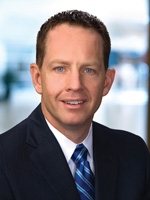 Baird, an employee-owned, international capital markets, wealth management, private equity and asset management firm, today announced that it has added public finance banker Jeff Fivecoat as a Director in its Columbus, Ohio Public Finance office. With more than a decade of health care financing experience, Fivecoat will expand
Baird Public Finance's
existing national health care effort.
For the past five years, Fivecoat was a Vice President and lead originator in the Hospital Finance Group at Red Capital Group ("RED"), a Columbus-based provider of integrated debt and equity capital to the multifamily, student and seniors housing and health care industries. Prior to his time at RED, Fivecoat served as Director of Finance at OhioHealth from 2004 to 2007. Fivecoat holds a M.B.A. degree in accounting and marketing from Ohio State University and a bachelor's degree in Economics from Colgate University.
"We are pleased to welcome Jeff to Baird," said
Keith Kolb
, Baird Public Finance Director. "He has incredibly deep experience in planning, structuring, and closing acute-care hospital facility financing projects. Baird continues to grow our national health care effort as a part of our Public Finance business, and we're confident that Jeff will be a great asset in that ongoing expansion."
About Baird's Public Finance Group

Baird is a major underwriter and financial advisor to municipalities, schools, government agencies, nonprofits and corporations. According to Thomson Reuters, in the first half of 2012 Baird ranked first in the nation for total number municipal bond underwritings; first in the nation for number of municipal bond underwritings of $50 million or less; and among the Top 10 in the nation for municipal bond issues of $100 million or less. Baird was honored by The Bond Buyer as underwriter for the "Small Issue Deal of the Year in 2011, "Nontraditional Financing Deal of the Year" in 2009 and advisor of the "Midwest Regional Deal of the Year" in 2007.
About Baird

Baird is an employee-owned, international wealth management, capital markets, private equity and asset management firm with offices in the United States, Europe and Asia. Established in 1919, Baird has more than 2,700 associates serving the needs of individual, corporate, institutional and municipal clients. Baird has more than $94 billion in client assets. Committed to being a great place to work, Baird ranked number 21 on the FORTUNE's "100 Best Companies to Work For" in 2012 -- its ninth consecutive year on the list. Baird's principal operating subsidiaries are Robert W. Baird & Co. in the United States and Robert W. Baird Group Ltd. in Europe. Baird also has an operating subsidiary in Asia supporting Baird's private equity operations. For more information, please visit Baird's Web site at
rwbaird.com
.
For additional information contact: