Ice Bear Raises Capital from Baird Capital Partners Asia, CCI, Great Dane
SHANGQIU, HENAN PROVINCE, May 21, 2012
Henan Bingxiong Refrigerated Truck Co., Ltd (Ice Bear), announced today it has raised a new round of financing led by Baird Capital Partners Asia, CCI, and CCI's portfolio company Great Dane, a 110-year old manufacturer of dry van, platform and refrigerated trailers and refrigerated truck bodies. The capital will support the expansion of Ice Bear's manufacturing facilities in Henan and Shanghai, as well as the company's growing domestic customer base. As part of the investment, Ice Bear will leverage Great Dane's global operating resources and engineering talent to grow its leading market position in the domestic Chinese market. Great Dane pioneered the refrigerated trailer industry in the United States and today is the leading producer of refrigerated truck and trailer technology.
Established in 1993, Ice Bear manufactures insulated and refrigerated trucks designed to carry perishable freight at specific temperatures. The company currently has a leading market share position in China, with a diversified national customer base and supported by one of the largest national sales networks.
"We are excited to have Baird, CCI and Great Dane as partners as we continue to grow our business," said Jianqing Lu, CEO, President and Chairman of the Board of Ice Bear. "The global relationships, operating resources and industry expertise of these investors make them a significant asset for our company and our customers."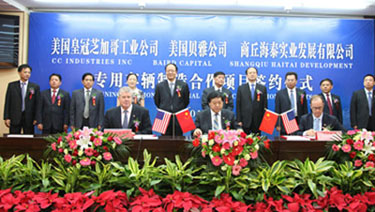 The cold supply chain market in China is underdeveloped compared to developed countries. In China, most perishable foods, such as meat, fruits, vegetables, dairy and soybean products are shipped by non-refrigerated trucks. It is estimated that the lack of effective cold supply chain systems in China results in 20-40% food spoilage loss, valued at over US$65 billion annually. Rising income levels and higher food safety demands by both the Chinese government and Chinese consumers are expected to drive a more sophisticated cold supply chain and the need for refrigerated trucks.
"We are thrilled to be investing in Ice Bear alongside Baird," said Bill Crown, President and CEO of Great Dane. "Mr. Lu and the entire Ice Bear team have built a leading company in the China market. Our leading market position in the refrigerated truck and trailer market will allow us to bring enormous resources to Ice Bear, and help them capitalize on the growing need for cold chain solutions in China."
"For the last three years we have been working closely with Great Dane and CCI on identifying opportunities in the cold chain industry in China," said Brett Tucker, Partner, Baird Capital Partners Asia. "We believe Great Dane's wealth of operating and industry experience, combined with our on-the-ground investment and operating team in China, will bring significant value to Ice Bear. We look forward to working with Ice Bear management to accelerate the company's growth and expand its market leadership."
As part of the transaction, Dean Engelage of Great Dane and Brett Tucker of Baird Capital Partners Asia will join the Ice Bear Board of Directors.
About Henan Bingxiong Refrigerated Truck Co., Ltd.

Henan Bingxiong Refrigerated Truck Co., Ltd ( Ice bear), located in Shangqiu city, Henan Province of central China, designs and manufactures refrigerated trucks, isothermal insulation trucks, postal /transportation vehicles, military purpose vehicles, and other special utility vehicles. Established in Dec. 1993, Ice Bear has expanded its Henan manufacturing plant and developed new Shanghai operations. Today it is the leading insulated and refrigerated truck manufacturer in China with products sold throughout the country by a well established sales network, which is the largest compared to its competitors in the industry.
About CCI/Great Dane

CC Industries (CCI), is the holding and management company for a group of industrial companies in the transportation and food processing equipment industries.
Great Dane, a U.S. manufacturer of dry van, refrigerated, and platform trailers as well as refrigerated truck bodies, has long been regarded as the industry leader in technology, innovation and quality. The company is headquartered in Chicago, Ill., and has additional corporate offices in Savannah, Ga., with manufacturing plants and a parts distribution center strategically-located throughout the United States. Great Dane's network of company-owned branches and full-line independent dealers and parts-only independent dealers offer distribution points for both trailers and aftermarket parts across North and South America. Great Dane can be accessed online at
greatdanetrailers.com
.
About Baird Capital Partners Asia

Baird Capital Partners Asia, the China-focused private equity fund of Baird Private Equity, provides growth equity capital to smaller, high-potential companies in China or with substantial operations and growth opportunities in China. Baird Capital Partners Asia leverages its in-depth sector knowledge, experienced investment team and extensive operating resources to drive value in its portfolio companies. Baird Private Equity has a global team of 60 investment and operations professionals across the United States, Europe and Asia, and has invested in more than 255 companies since the 1980s. Baird Private Equity is the global private equity group of Robert W. Baird & Co. (Baird). For more information, please visit
bairdcapitalpartnersasia.com
.
For additional information contact: