Sharing Strength – Dallas Hosts Baird Women Advisors Event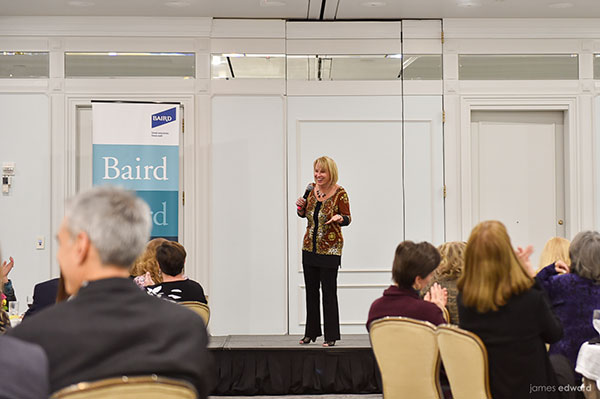 More than 120 people attended the keynote address at the Baird Women Advisors Summit, including Baird financial advisors and senior leaders, other wealth management and industry professionals, community members and students from Southern Methodist University and the University of Texas-Dallas.


February 2016
In February, the Baird Women Advisors (BWA) Summit brought many of Baird's best women Financial Advisors to Dallas to network, share ideas and discuss issues important to them as financial services professionals.
"This was one of the best conferences I have ever attended," said Patty Estopinal, a more than 30-year veteran advisor based in Roseville, Calif., and President of the BWA Advisory Council. "When you bring women advisors at Baird together, the synergy is amazing. Everyone is clearly focused on helping one another succeed."
Keynote speaker Connie Podesta delivered a high-energy, interactive presentation on personality types and tips for effective collaboration.
Other popular sessions included a Town Hall Q&A with Baird Chairman Paul Purcell and a lively discussion of catalysts currently moving the markets led by Equity Sales Trader Mike Antonelli, author of the "Bull and Baird" market blog.
Established in 2008, BWA is committed to promoting the profession and making Baird the best place to work for women in wealth management.