Looking Across the Pond: U.S. private equity targets European assets
Baird sees sector-driven U.S. middle-market private equity firms target European assets
March 2014
Global private equity players that are headquartered in North America have long been investors in European assets. Players such as Advent, Blackstone, Carlyle, KKR and Riverside have had a presence across Europe for several years and invested in a variety of sectors. A number of other firms, including Levine Leichtman, Onex and Technology Crossover Ventures, have more recently established offices. However, recent European M&A processes have seen strong interest from purely U.S.-based private equity (PE) firms – firms that do not have an office in Europe but are able to make foreign investments.

Since 2011, there have been 44 middle-market leveraged buyout (LBO) transactions where the final buyer was a purely U.S.-based PE firm, including:
Chicago-based GTCR's acquisition of UK-based Callcredit Information Group from Vitruvian Partners in February 2014 for ~£480m
New York-based New Mountain Capital's acquisition of UK-based Alexander Mann Solutions from Graphite Capital in October 2013 for £260m (Baird advised Alexander Mann Solutions on the sell side.)
Washington, D.C.-based Arlington Capital Partners' acquisition of UK-based MB Aerospace from Lloyds Development Capital (LDC) in April 2013
Baird believes that this trend is set to continue, particularly in the middle market where European PE firms are looking to exit their portfolio companies through global M&A sale processes. The key drivers for U.S. financial buyers seeking and successfully competing for European assets include:
An improving European macroeconomic environment
Pressure on PE firms to deploy $400bn of dry powder worldwide, the majority of which sits in the United States
Competitive and relatively overcrowded PE environment in the United States is driving firms to look overseas
Liquidity in the U.S. and European debt markets is supporting buyouts of strong businesses
Sector-driven PE firms keen to acquire assets outside of their primary geographic regions
Leveraging U.S. experience to accelerate growth of businesses headquartered in Europe with locations in the United States.
U.S. private equity buyers in European transactions
Baird analysed middle-market European LBO activity since 2006 where the final buyer was a purely U.S.-based PE firm (see graph below). The 2013 deal count for this specific type of transaction has returned to 2007 levels despite a nearly 50% reduction in the overall European middle-market M&A deal count between 2007 and 2013.
A total of 81 European transactions to U.S. financial buyers, the majority by sector-driven PE firms
More than 70% of transactions were secondary buyouts in 2013 vs. fewer than 50% from 2006-2012
43% were UK-based targets, 15% were Germany-based targets and 11% were Scandinavia-based targets
U.S. PE buyers in European LBOs
Number of middle-market transactions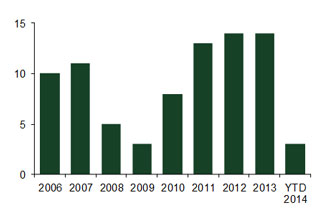 Selected U.S. PE firms that have acquired in Europe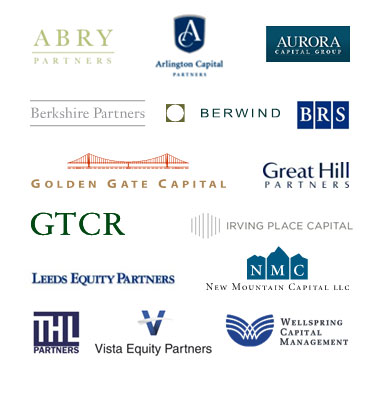 Sources: Baird, CapIQ and acquisition press releases.
Shows U.S. private equity buyers who do not have an office in Europe.
Majority stake platform investments in Europe, excluding add-on acquisitions.
European assets attractive for U.S. private equity firms
Baird's analysis of LBO activity shows that purely U.S.-based PE firms have increased their activity in Europe since the economic downturn. Europe has a vast array of high-quality, privately owned assets as well as attractive regulatory, legal and tax frameworks. With more than 400 middle-market private equity firms in the United States, a number of these players are looking to Europe, where they will likely to compete against a smaller number of bidders in the auction process.
Many middle-market companies in Europe, which is the world's largest export market, have started to internationalise their business and often penetrate emerging markets earlier than some of their North American competitors. A U.S. financial buyer can accelerate this trend by helping European companies access and grow in the Americas. Recent examples include:
New York-based Wellspring Capital Management's acquisition of UK-incorporated Swift Technical Group, a global oil & gas recruitment business headquartered in Houston, from Gresham in November 2013 for ~£150m
New York-based Bruckmann, Rosser, Sherrill & Co.'s acquisition of Spain-based Industrias el Gamo, a global manufacturer of outdoor airguns and pellets, from MCH Private Equity in August 2013
The European leveraged finance market has become increasingly competitive over the last year with a diverse universe of bank lenders and specialist debt funds enabling both European and North American PE firms to successfully finance acquisitions. Relative to the last few years, debt markets are more global and liquid. For companies with a strong financial profile, the United States leveraged finance market is offering in excess of 5.0x or 6.0x total debt / EBITDA with flexible (limited) covenant packages. New Mountain Capital, which acquired Alexander Mann Solutions in late 2013, obtained their leverage package in the U.S. for this UK deal.
Sector-driven private equity firms seek targets beyond their regions of focus
Baird is observing that a number of sector-driven PE firms are keen to acquire outside their primary geographic regions. Sector-driven financial buyers are well-positioned to accelerate growth and add value to their portfolio companies. They are also able to draw on the experience of their operating partners to provide insight into global opportunities.
Potential buyers that are participating in European M&A auctions generally receive a financial vendor due diligence (VDD) report and, in many cases, a commercial VDD report. This is not typical in U.S. M&A processes. Such access to VDD reports often allows sector-driven U.S. PE firms to move through due diligence faster than generalist European private equity firms. Sector-driven U.S. financial buyers include:
GTCR, which acquired Callcredit last month. GTCR focuses on three specific growth sectors: financial services & technology, healthcare, and information services & technology.
New York-based Leeds Equity Partners, which acquired a minority stake in UK-based INTO University Partnerships in January 2013 for £66m. Leeds Equity Partners focuses exclusively on education, training and information services.
Boston-based Abry Partners, which acquired Norway-headquartered Basefarm in December 2012. Abry Partners focuses solely on media, communications, and business and information services.
Outlook for 2014
Market conditions for leveraged buyout activity remain ripe in 2014. The debt markets are open in both the United States and Europe, and there is a substantial amount of private equity dry powder available after robust fundraising in 2013. Market confidence is high, as is the pressure to deploy capital. These factors are driving intense competition for high-quality assets, resulting in PE firms paying premium valuations to win the deal. For many businesses, now is the right time to sell.
Robert W. Baird & Co. Incorporated. 777 East Wisconsin Avenue, Milwaukee, WI 53202. 800–RW–BAIRD. Robert W. Baird Limited is authorised and regulated by the Financial Conduct Authority.