Interesting Times for Healthcare
Fred Robertson of Baird Capital Shares His Outlook for Private Equity in the Sector
With key provisions of the Affordable Care Act still looming for small businesses in the United States, regulatory measures have been thrust into the spotlight and many private equity investors with ties to the healthcare industry are concerned about the long-term impact this legislation may have.
To Baird Capital, these regulatory measures simply reflect the same level of attention we've been putting in all along when conducting due diligence on our investments. We see the Affordable Care Act as an opportunity rather than a hindrance, believing it will bring more people and investment into the healthcare system, a result that aligns with our overall strategy.
New Opportunities
Are Emerging Healthcare remains a high-growth industry in the United States and many markets around the world, providing an avenue for groundbreaking research and progress. At the same time, there is a system wide emphasis on cost control, so efficiency is always top of mind. At Baird Capital we look for ways to benefit from current trends, with a focus on developing companies that produce disruptive medical technologies – things that challenge the industry status quo. We are not interested in products and services that are easily commoditized. Instead, we look to grow with companies that possess a unique competitive advantage in their fields.
We see the most room for growth in early-stage trends like infection prevention and minimally invasive medical procedures, along with other trailblazing processes and devices. Virology, stem cell research and informatics are all subfields with unique growth prospects that we consistently monitor for new opportunities. Baird Capital targets companies that possess revolutionary visions in combination with a good organization. As a result, we enter every investment with the end goal in mind.
The Right Minds to Capitalize
There is currently a movement toward investing in the overlap between healthcare and IT. Baird Capital has the complementary expertise in these areas to help identify emerging trends and technologies that can help our investments grow.
For example, "big data," a term used to describe the mass quantities of information generated at an increasingly exponential rate throughout our society, is a major new development in healthcare that can help create efficiency and deliver better outcomes for patients. While big data brings with it incredible potential, it also forces us to answer complicated questions, such as how to gather these large amounts of data, how to analyze it, and how to act on it. Though these may be challenging hurdles, we believe our team is well positioned to overcome and take advantage of exciting new technologies like big data with the cooperation that exists within the group.
We have laid out a clear strategy and built an experienced group with a long track record. This mixture instills confidence in all team members as they grow fresh, creative ideas. And we have the strength of the entire Baird platform behind us. We are able to both draw on and provide internal resources across the board, from investment banking to equity research. I can say with confidence that our ability to work together across the firm is a distinguishing factor that sets us apart.


About Fred Robertson
As an Operating Partner with Baird Capital, Fred Robertson works with the Venture team to source and evaluate new investment opportunities and contribute his operating experience to portfolio companies. Prior to working with Baird Capital, Robertson served in a variety of roles in the healthcare industry, including Assistant Professor of Anesthesiology at the Medical College of Wisconsin and President and CEO of GE Marquette MedicalSystems. Most recently, he was Chief Executive Officer of TomoTherapy, taking the company public on NASDAQ and leading it until its eventual sale to Accuray.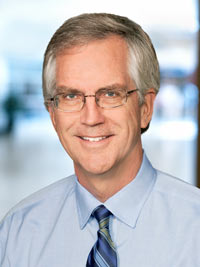 Fred Robertson
Operating Partner
Baird Capital