Baird examines inbound and outbound M&A
After enduring a period of economic uncertainty over the past few years, India is experiencing a positive turnaround in investor sentiment, founded largely on the election of new Prime Minister Narendra Modi. Prime Minister Modi took office in June, and enthusiasm for his pro-growth reforms has been building since the beginning of 2014. Markets have reacted positively – since the beginning of the year, the Indian rupee has rallied 4% against the dollar and the benchmark Sensex index has increased over 20%, setting a record high and making the Sensex one of the best performing global stock markets this year. The market's performance reflects investors' expectations that the outlook for India will improve after the last few years of currency and economic volatility.
2014 M&A Activity
From 2011 to 2013, the number and dollar value of M&A transactions involving a foreign entity acquiring a company in India (inbound M&A) fell approximately 30% and 20%, respectively. Outbound M&A suffered even more, as the number and dollar value of M&A transactions involving an India entity acquiring a foreign company fell approximately 40% and 85%, respectively, from 2011 to 2013.
As sentiment has improved throughout 2014, the dollar value of inbound and outbound M&A transactions through June increased significantly to 70% and 215%, respectively, compared with the same period last year. Consumer, Healthcare and Telecom were the most active sectors. Another emerging trend is increased private equity activity in India by global funds including investments since the beginning of 2013 by Apax, Baring Private Equity Asia, Blackstone, Carlyle, GIC, KKR and Warburg Pincus.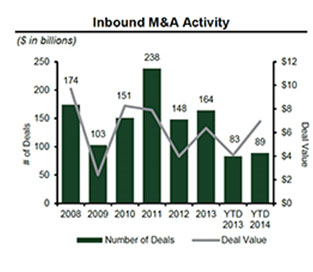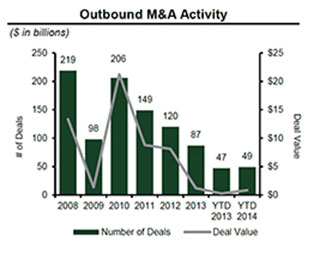 While it is too early to predict how Prime Minister Modi's election will affect cross-border M&A activity over the medium to long term, the new government's recently released budget should help investment in infrastructure; permit greater direct foreign investment; allow for easier access to financing for small organizations; simplify the tax code; and provide more targeted subsidies. These budgetary changes are widely seen as positive for India's economy and potentially M&A activity as a whole.
Baird & Axis Capital: An India Investment Banking Alliance
Baird and Axis Capital, the investment banking subsidiary of Axis Bank, the third largest private sector bank in India with a market cap of approximately $15 billion, have maintained an exclusive strategic alliance since December 2012 for investment banking services. This strategic alliance provides clients with an enhanced cross-border M&A offering between India and Europe as well as India and the U.S. by leveraging each bank's strong knowledge of the M&A and capital markets and specific industry sectors, as well as deep corporate relationships within those sectors.