In Search of Growth: European Acquirers Pursue North American Targets
December 2014
As the European economy continues on its slow-to-no-growth path, European acquirers are looking for M&A opportunities in North America where growth prospects appear more promising.
Europe has acquired over $150bn worth of M&A targets in the United States (US) and Canada in the last twelve months to November 2014 (LTM 2014), almost four times the value compared with the previous twelve months (LTM 2013) and the highest since before the global economic downturn. For the LTM 2014 period, Europe was the most common inbound M&A partner to the US, accounting for over 40% of inbound deal count and approximately 50% of deal value. Industrial, information technology (IT), healthcare, consumer and business services have been the most active M&A sectors, accounting for the majority of transatlantic deal count.
Europe (Acquirer) to
US (Target) M&A Activity

Europe (Acquirer) to
Canada (Target) M&A Activity
Source: Dealogic announced M&A transactions.


Promising US Economic Growth
Real GDP growth for 2015 is forecast at 3.2% in the US, up from an expected 2.2% in 2014, providing investors and potential buyers with confidence that the US economy is on a stable growth trajectory. The top three European M&A partners to the US are UK, Germany and France, each forecast to have lower GDP growth rates than the US in 2015.


Forecast Real GDP Growth (%)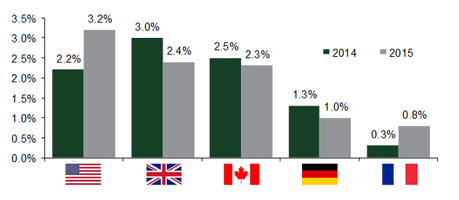 Source: Economist Intelligence Unit and E&Y.

European corporates are using cash on their balance sheets and / or accessing the relatively liquid equity and debt markets, driving demand for multi-billion dollar deals. European headquartered private equity firms also have a substantial amount of dry powder and are increasingly looking to North America to deploy capital through their buy-and-build platforms.
David Silver, Head of European Investment Banking at Baird, comments: "With strong balance sheets, untapped capital and favourable debt markets, European corporates and private equity firms have long been acquiring in Europe. But as they see growth accelerating in other parts of the world, particularly North America, they have further motivation to do a deal abroad."

Chris McMahon, Head of Global M&A at Baird, adds: "The improving fundamentals in the US economy have clearly been a factor driving more inbound M&A from international buyers. European corporates are capitalising on opportunities to enhance global growth, product diversification and distribution networks. These are highly strategic motivations and in many cases yielding attractive valuations for US targets."


Selected Baird M&A Transactions
Leveraging its global presence and sector expertise, Baird has advised on 10 transatlantic transactions with a European acquirer since January 2014, including:
Acquisition of Miller-St. Nazianz Inc, a US based manufacturer of precision agricultural spraying equipment, by CNH Industrial NV, a UK headquartered capital goods manufacturer (Baird sell-side)
Acquisition of Aptiv Solutions Inc, a US based manager of adaptive clinical trials for pharma and biotech customers, by ICON plc, an Irish headquartered outsourced development services provider, for $143.5m (Baird buy-side)
Acquisition of Eclipse Inc, a US based manufacturer of gas combustion components and systems, by Elster Gas, a German manufacturer of industrial gas equipment owned by Melrose Industries plc, for $158m (Baird buy-side)
Acquisition of Atwood Mobile Products LLC, a US based manufacturer of products for recreational vehicles, by Dometic Group AB, a Swedish headquartered supplier of leisure products owned by EQT (Baird sell-side)
Acquisition of Industrial Distribution Group Inc, a US based distributor of industrial MRO products, by family owned Sonepar Group, the world's largest electrical distributor, headquartered in France (Baird sell-side)
Acquisition of Ecova Inc, a North American provider of technology-enabled energy and sustainability management solutions, by GDF SUEZ SA, a French multinational utility company, for $335m (Baird sell-side)
Acquisition of Maxxam, a Canadian headquartered provider of analytical services and solutions to the energy, environmental, food and DNA industries, by Bureau Veritas SA, a French headquartered provider of conformity assessment and certification services, for CAD$650m (Baird sell-side)
The Future for Transatlantic M&A
Baird expects transatlantic M&A activity to continue supported by the established trend of North Americans acquiring in Europe and also driven by the recent trend of Europeans acquiring in North America. Higher economic growth in North America compared to Europe will force European buyers to further embrace outbound M&A and globalisation.
For more information about this article or Baird, please contact:


Baird's Global Investment Banking department comprises over 260 professionals across the United States, Europe and Asia. We operate in a fully integrated manner in order to leverage the collective strengths of our M&A advisory, equity financing and debt advisory capabilities through dedicated industry teams. Baird's bankers focus on industries where the bank has deep sector expertise and valuable insights regarding key corporate entities and financial sponsors around the globe. Since the start of 2010, Baird has advised on over 315 M&A transactions, representing over $75 billion in transaction value. Baird advised on a number of transatlantic transactions in 2014 including:

To learn more about Baird's Global Investment Banking capabilities, please visit rwbaird.com or bairdeurope.com
Selected M&A transactions shown. Please visit rwbaird.com/investment-banking for a list of all transactions.