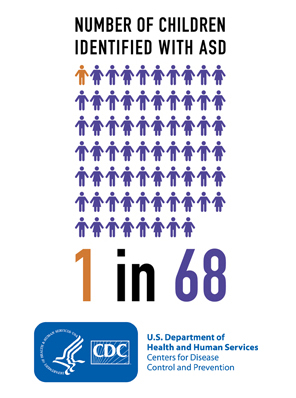 A Growing Disorder and Increasing Coverage Drives Demand for Care
A Growing Disorder
Autism Spectrum Disorder or ASD is the fastest growing developmental disorder in the U.S. Autism affects 1 in 68 children (1 in 42 boys), and diagnosis has increased 144% in the last 10 years.
Today, some 3.5 million people in the U.S. are on the spectrum. On average, autism costs a family more than $60,0001 a year in medical expenses, lost income, special education, residential care and other services.
ASD has no cure and therapies are aimed at improving symptoms. The standard form of care is a behavior and communication approach applied throughout the life of a patient called Applied Behavior Analysis (ABA). ABA can be complemented with speech, physical and occupational therapies and medications. The typical care setting is generally outpatient or in-home, with school services as a complement and a growing opportunity. The lifetime cost of care for an individual averages between $1.4 million to $2.4 million2. Economic costs for ASD in the United States in 2015 were estimated to be $268 billion and are expected to reach $461 billion by 20253. Further, if ASD prevalence continues to increase as it has in recent years, the costs could reach $1 trillion by 2025 (which, for perspective, would far exceed the cost of diabetes).
The need for early diagnosis
There is no medical test to diagnose ASD, so professional conduct a comprehensive developmental evaluation and diagnose children based on established criteria. Early diagnosis and intervention are significantly beneficial to a child's life: statistics show that between 25% and 50% of children diagnosed with autism who receive intensive, early intervention are able to move into general education by kindergarten.
Early diagnosis and ABA therapy treatment can also reduce care costs by approximately two thirds. Still, only 43% of children identified with autism receive comprehensive developmental evaluations by age 3.
Favorable Regulatory and Reimbursement Backdrop
The Affordable Care Act (ACA) and autism insurance reform have increased access to coverage and care, with 46 states now having insurance mandates in place. Further, the Centers for Medicare & Medicaid Services (CMS), guide that under Medicaid, Early and Periodic Screening, Diagnostic and Treatment (EPSDT) should cover medically necessary treatments for autism for children and young adults up to the age of 21. The growing awareness and advocacy are catching on. Of the more progressive commercial insurance plans, UnitedHealthcare recently announced that, starting in 2017, ABA therapy will be included as part of its standard benefits package.
A Challenge to Meet Growing Demand
While healthcare reform has driven better access and coverage for care, the demand for care far exceeds the available supply, which is exacerbated by a fragmented web of service providers. Unfortunately, the aforementioned expansion has largely been unable to catch up with the demand for services. Further, while there appears to be continued bipartisan support for mental health broadly, it's unclear what impact repeal/replacement of the Affordable Care Act might have on benefits coverage/reimbursement (particularly with respect to Medicaid and care provided in the school). Regardless, the demand for ABA and related therapy services continues to exceed supply. Technology will play an increasing role in helping provider organizations become more efficient and those on the spectrum receive needed care.
Baird Capital's Proactive Focus
Since the late 1980's, Baird Capital has been providing equity capital in support of management for the acquisition, recapitalization and growth of superior healthcare services companies. Baird Capital is one of the most knowledgeable investors in the behavioral health space, with a particular focus on ABA and related therapies. We are eager to partner with ABA and related therapy providers (OT, PT, SLP, etc.) across modalities (home, outpatient, in-school, day school, adult/residential, etc.) as well as outsourced services and technologies that support the efficient and successful delivery of this much needed care.
1Autism speaks.
2Autism speaks.
3Autism speaks / UC Davis, "Brief Report: Forecasting the Economic Burden of Autism in 2015 and 2025 in the United State – Paul Leigh and Juan Du, July 2015