Global M&A's Bright Spot – China Outbound Activity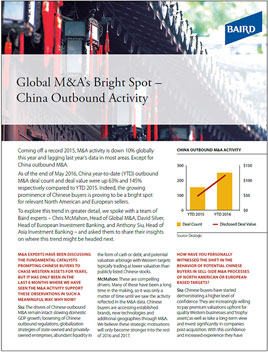 Coming off a record 2015, M&A activity is down 10% globally this year and lagging last year's data in most areas. Except for China outbound M&A. To explore this trend in greater detail, a team of Baird experts – Chris McMahon, Head of Global M&A, David Silver, Head of European Investment Banking, and Anthony Siu, Head of Asia Investment Banking – shared their insights on where this trend might be headed next.
Read Baird's insights on China Outbound Activity.