Are Global Trends Laying the Track for a Resurgence of Western Domestic Manufacturing?
by Dennis Hall, Managing Director, Baird Capital Portfolio Operations
---
Growth in Western-based manufacturing continues to exceed expectations. U.K. manufacturing saw its strongest growth in two years in June 2013, boosting hopes of a strengthening economic recovery and a continuing trend. Many media accounts have attributed this growth in part to a recent wave of "onshoring." These stories purport that U.K. companies such as GlaxoSmithKline, E.ON UK and Santander UK are all examples of successful businesses that have decided to reshore operations to Britain. Baird Capital sees this dynamic in action and is managing its investments accordingly.
Western governments are keen to bring jobs back home, and some have implemented regulations aimed at making onshoring more attractive. These include more flexible labour regulations and grants. In addition, technological advances continue to reduce production costs and create less labour-intensive manufacturing processes. Meanwhile, between 2011 and 2012, the average wage for a Chinese manufacturing employee rose by close to 10 per cent, which is not an isolated example but consistent with salary increases over the past five years. In stark contrast, labour and production costs in Western countries are falling. For example, such UK salaries have declined by an average of 2.2 per cent since 2005.
Whether the West is on the cusp of a new manufacturing renaissance, as some commentators portend, or simply looking at a return to some rebalancing of production demographics, one thing is certain: The difference in the cost of labour between China and the Western world is shrinking, gradually reducing the primary benefit that drove outsourcing decisions just one decade ago (see graphs, below).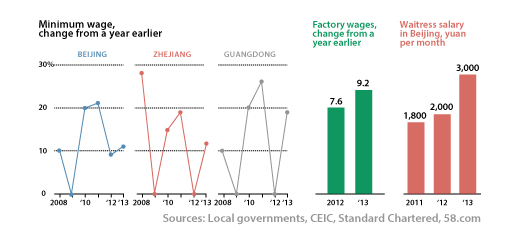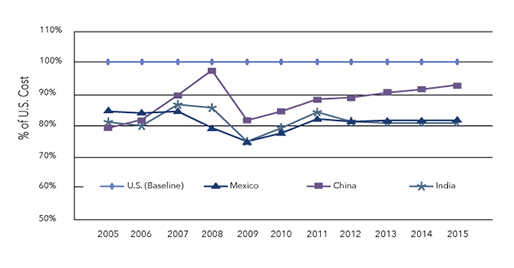 Sources: Alixpartners, Manufacturing, Index 2012
Other factors impacting the net benefits of outsourcing include rising transportation costs, necessary infrastructure investments and natural cultural gaps as well as the changing times. Old outsourcing theories called for consistent and predictable supply chain costs and labour arbitrage strategies. Today's approach prioritises the repatriation of manufacturing with the political and "control" goals of producing goods in the West.
Despite this onshoring trend, Baird Capital sees a number of misleading conclusions and inconsistencies in some of the more popular commentaries on the subject:

Middle-Market vs. Large Companies: One Solution Does Not Fit All
Large companies like those identified above generally find it easier to onshore manufacturing at competitive costs thanks to the efficiency benefits of scale. However, middle-market companies face a very different reality. Due to their smaller volumes and operations, these mid-market organisations should continue to see significant benefits in accessing the scale of Asia production. While the cost of labour in China has increased, it is still less than one-fifth of U.S. and European wage rates, enabling significant benefits for middle-market companies in those countries. In addition, Chinese government policy is helping to facilitate the development of infrastructure and a highly skilled workforce in central and western China, where wage rates are 30% lower than those in the more traditional offshoring destinations of coastal China. This combination of factors in central and western China should make that region even more appealing as an offshoring option for middle-market companies.

Components Sourcing vs. Finished Goods
The differences between assembling finished goods and manufacturing components are important in understanding the cost-benefit equation for companies considering offshoring. Value can be created or added in the component process by leveraging global expertise, which is a major reason Baird Capital believes these processes are less likely to return to the United States and Europe. However, offshoring the manufacturing of finished goods presents much lower cost-saving opportunities than historically. At the same time, bringing assembly factories closer to the end customer drives greater efficiencies than an Asia sourcing scenario, including working capital optimization, faster lead time to customers and the ability to tailor products to customer requirements. Another critical factor to consider is quality. Companies can better control quality processes in a factory they actively oversee and manage versus a facility they visit periodically.

In our experience, applying the old theory of outsourcing finished goods typically drove lower returns than expected. In some cases, companies lost control of their product development expertise and had to rely on Asia suppliers for their new product development needs. In other situations, working capital needs tied-up funds that could have been used to pay down debt or reinvest in the company. So, from a practical standpoint, Baird Capital understands the relative merits between offshoring components and finished goods – hence the trend of onshoring finished goods assembly. Our investments are managed with that knowledge in mind.
Component sourcing remains a relevant consideration. When evaluating component sourcing, Baird Capital works with its portfolio companies to identify the best global locations to source each specific component. Utilising our experience to understand what to source in Asia and our established on-the-ground team to manage the sourcing process continues to yield tremendous benefit, consistently seeing an average of 20–30% cost reduction.
Summary
Baird Capital has had an active, on-the-ground presence in Asia since 2003, with a dedicated team of investment and operations professionals who work exclusively with portfolio companies in support of Asia strategies. This provides unique insight into offshoring and onshoring trends from the perspective of U.S.- and European-based portfolio companies. This combination of global capabilities and earned experience is invaluable in determining and then delivering beneficial sourcing strategies for our portfolio companies.