While many U.S. investors have shifted their holdings from actively managed accounts to passive indexed strategies in an effort to capitalize on recent equity market tailwinds, the relative performance of passive strategies over the past decade doesn't necessarily justify that decision.
A recent study from the University of Notre Dame shows portfolios with higher active shares (meaning little overlap in holdings with their benchmarks) and low turnover (meaning a longer average holdings period for individual investments) have significantly outperformed their more-index-correlated counterparts with lower active share allocations and higher investment turnover rates.
The latest white paper from Baird Equity Asset Management's Value Team illuminates the findings of this study and its implications for investors.
Download Our Latest White Paper: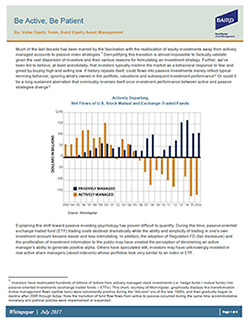 Investors should consider the investment objectives, risks, charges and expenses of each fund carefully before investing. This and other information is found in the prospectus and summary prospectus. For a prospectus or summary prospectus, contact Baird Funds directly at 866-442-2473 or contact your Baird Financial Advisor. Please read the prospectus or summary prospectus carefully before investing.
All investments carry some level of risk, including loss of principal.