Baird Posts Record Net Revenues for Fifth Year in a Row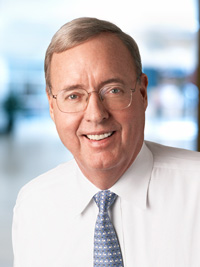 Paul E. Purcell

Steve Booth
Client assets grew to $145 billion in 2014
MILWAUKEE, April 15, 2015 – Employee-owned Baird announced today that it posted record net revenues of $1.2 billion1 in 2014, a 12 percent increase over 2013. Operating income totaled a record $135 million, up 15 percent from a year ago, and the firm's 2014 return on book value was 15.5 percent, outpacing most of the industry. Baird's assets in client accounts grew to $145 billion, a 45 percent increase over the past two years. The 2014 results, which are available in the 2014 Baird Annual Report, mark the firm's fifth consecutive year of record revenues.
"Each of our businesses continued to excel in providing service and solutions to our clients, and several achieved records in key metrics and revenue," said Paul E. Purcell, Baird Chairman & CEO. "Our results once again prove the value of our employee-owned model and our five complementary businesses that help diversify revenue and contribution."
Baird's balanced approach has allowed the firm to produce 140 consecutive quarters of operating profitability. Employment at Baird has increased 29 percent over the past five years while the rest of the financial services industry grew by less than 4 percent during the same time period.
In 2014, Baird expanded in numerous areas including:
"Over the past 95 years, Baird has built a very durable business with a remarkable group of associate-owners who are motivated daily to serve our clients," said Steve Booth, Baird President & COO. "With that strong foundation, we are exceptionally well positioned to capture opportunities that will allow Baird to continue to grow in a thoughtful way for our clients."
To learn more about Baird's financial performance and other 2014 highlights, please view the Baird 2014 Annual Report. For additional perspective, watch a video from Paul Purcell and Steve Booth.
About Baird
Baird is an employee-owned, international wealth management, capital markets, private equity and asset management firm with offices in the United States, Europe and Asia. Established in 1919, Baird has more than 3,100 associates serving the needs of individual, corporate, institutional and municipal clients. Baird has more than $145billion in client assets. Committed to being a great place to work, Baird ranked No. 5 on FORTUNE's 100 Best Companies to Work For® in 2015 – its 12th consecutive year on the list. Baird's principal operating subsidiaries are Robert W. Baird & Co. in the United States and Robert W. Baird Group Ltd. in Europe. Baird also has an operating subsidiary in Asia supporting Baird's investment banking and private equity operations. For more information, please visit Baird's Web site at www.rwbaird.com.
---
1Financial results do not reflect the consolidation of certain private equity partnerships.