Baird Ranks No. 6 on FORTUNE's 2016 100 Best Companies to Work For
Employee-owned firm's third consecutive year among the top 10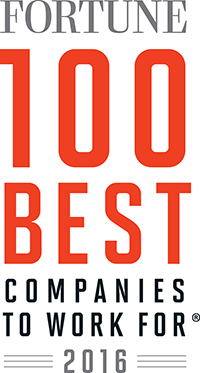 MILWAUKEE, March 3, 2016 – Baird ranks No. 6 on FORTUNE magazine's 2016 list of the 100 Best Companies to Work For, an annual ranking of the top U.S. workplaces based on employee feedback and workplace attributes. Baird, an employee-owned international financial services firm that has been recognized on the list for 13 consecutive years, has ranked among the Top 25 for the past eight years and the Top 10 for three consecutive years.
"It is an incredible honor to be selected as one of FORTUNE's 100 Best Companies to Work For, and we're thrilled to be recognized in the top 10 for the third consecutive year," said Steve Booth, Baird President & CEO. "Being a great place to work is the foundation of who we are at Baird, and this tremendous acknowledgement is a tribute to our associates, who love what they do and go above and beyond for our clients every day."
FORTUNE evaluates a number of attributes in selecting companies to be included on the 100 Best Companies to Work For list. Here is FORTUNE's description of Baird: How do you navigate a volatile stock market? This employee-owned financial services firm credits a strong culture based on unconditional respect for all employees and a rigorous approach to equity for keeping them on course. Everyone has the same standard size office in Baird's newly renovated headquarters, and there are no executive perks. Health insurance is geared to income: the more you make, the more you pay for the premium. Baird also offers one benefit not found in many companies: support for transgender reassignment. The company's insurance will provide up to $75,000 for this procedure, which includes, among others, gender reassignment surgery, hormone therapy and therapeutic services.
"Our commitment to being a great place to work has been absolutely essential to our ability to attract and retain top professionals who value our distinctive culture, our employee-owned business model and our commitment to clients," said Paul Purcell, Chairman of Baird. "All of these characteristics contribute to Baird's great workplace environment, and we're very grateful to be recognized among companies like Google, Cisco and Nordstrom."
By attracting and retaining top talent and through its balanced platform of five strategic businesses, Baird has achieved significant performance milestones, including the following results for 2015:
Revenues of $1.3 billion, up seven percent from 2014 and the sixth consecutive year of record results.1
Client assets totaling $151 billion, an 83 percent increase in five years.
Record operating income of $154 million, an increase of 14 percent over 2014.
Additionally, Baird has increased its employment by 26 percent over the past five years while the U.S. securities industry has grown by eight percent. This growth has enabled Baird to strategically expand its capabilities and service offerings, with the most recent example being the acquisition of Chautauqua Capital Management, an employee-owned international equity asset management firm based in Boulder, Colo.
"This year's 100 best workplaces show – again -- that trust fuels financial performance," said Michael Bush, CEO of Great Place to Work®. "Great workplaces have significantly less turnover, outperform peers in the stock market and enjoy high levels of collaboration, communication and trust—crucial ingredients to innovation. The 100 best are setting the standard for all businesses."
To read more about Baird's workplace attributes, see the Great Place to Work Institute's review of Baird.
Methodology
To identify the 100 Best Companies to Work For, each year Fortune partners with Great Place to Work to conduct the most extensive employee survey in corporate America.
Two-thirds of a company's survey score is based on the results of the Trust Index Employee Survey, which is sent to a random sample of employees from each company. This survey asks questions related to employees' attitudes about management's credibility, overall job satisfaction, and camaraderie. The other third is based on responses to the Culture Audit, which includes detailed questions about pay and benefit programs and a series of open-ended questions about hiring practices, methods of internal communication, training, recognition programs, and diversity efforts.
About Baird
Baird is an employee-owned, international wealth management, capital markets, private equity and asset management firm with offices in the United States, Europe and Asia. Established in 1919, Baird has approximately 3,300 associates serving the needs of individual, corporate, institutional and municipal clients. Baird has more than $151 billion in client assets. Baird's principal operating subsidiaries are Robert W. Baird & Co. in the United States and Robert W. Baird Group Ltd. in Europe. Baird also has an operating subsidiary in Asia supporting Baird's investment banking and private equity operations. For more information, please visit rwbaird.com.
1 Financial results do not reflect the consolidation of certain private equity partnerships.