Baird's Global Investment Banking Business Posts Record 2014
MILWAUKEE, Jan. 20, 2015
Baird, an employee-owned, international financial services firm, today announced that its Global Investment Banking business posted record results for 2014. Highlights of the year included: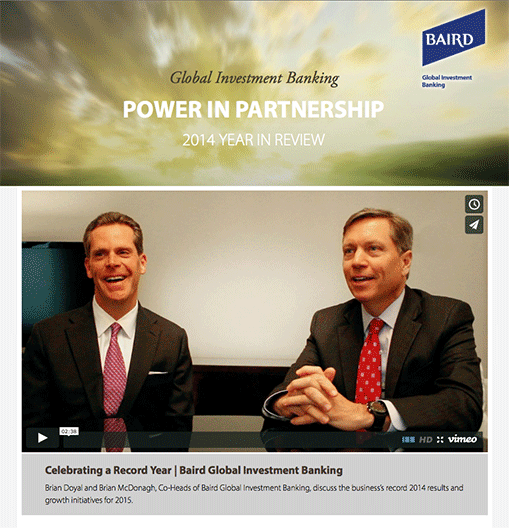 A record 222 global advisory and financing transactions
The largest percentage of bookrun equity financings
20 countries where Baird has completed M&A deals in the past 5 years
Global revenues up 23% from 2013, the previous record revenue year
10 investment banking professionals promoted to Managing Director and Director
Advised on a record $6 billion in buyside M&A
Learn moreabout Baird's record year in Global Investment Banking.
About Baird's Global Investment Banking Group
Recognized as the 2011 "Investment Banking Firm of the Year" by The M&A Advisor, Baird is a leading global investment bank focused on the middle market. Approximately 250 investment banking professionals in the U.S., Europe and Asia provide corporations, entrepreneurs, private equity and venture capital firms with in-depth market knowledge and extensive experience in merger and acquisition and equity financing transactions. Since 2009, Baird has advised on 305 M&A transactions representing more than $71 billion in transaction value and has served as lead or co-manager on 440 equity offerings raising $131.8 billion. Baird has received "Deal of the Year" recognitions from The M&A Advisor for nine years running, demonstrating commitment to attaining great outcomes for clients.
About Baird
Baird is an employee-owned, international wealth management, capital markets, private equity and asset management firm with offices in the United States, Europe and Asia. Established in 1919, Baird has more than 3,100 associates serving the needs of individual, corporate, institutional and municipal clients. Baird has more than $135billion in client assets. Committed to being a great place to work, Baird ranked No. 9 on FORTUNE's 100 Best Companies to Work For in 2014 – its 11th consecutive year on the list. Baird's principal operating subsidiaries are Robert W. Baird & Co. in the United States and Robert W. Baird Group Ltd. in Europe. Baird also has an operating subsidiary in Asia supporting Baird's investment banking and private equity operations. For more information, please visit Baird's Web site at rwbaird.com.
For additional information, contact:
Baird Public Relations
(414) 765-7250
PublicRelations@rwbaird.com