Baird Earns Top Workplace Wellness Award
MILWAUKEE, September 6, 2013

Baird was recently recognized as one of the nation's newest Platinum Well Workplace Award winners by the Wellness Council of America (WELCOA) and Wellness Council of Wisconsin. The Platinum Award represents the apex of results-oriented workplace wellness programming and is presented to organizations forging new ground by linking health promotion objectives to business outcomes. The award acknowledges Baird's commitment to excellence in the pursuit of enhancing employee health and well-being. It also recognizes quality and excellence in work site wellness criteria. Only a handful of employers have attained the Platinum designation. Baird received the Gold designation in 2010.

"We are honored to be recognized for our commitment to the health and well-being of associates," said Lisa Mrozinski, Total Rewards Manager- Benefits. "However, this award is truly a testament to our associates and their families who have really committed to their wellness. We continue to look for ways to grow and enhance wellness initiatives at Baird, knowing that associate health always plays an important role in the firm."

In 2013, WELCOA awarded 49 companies and organizations across the nation. A total of 11 organizations from across the country received the Platinum Award, including organizations in Indiana, Colorado, Nebraska and Wisconsin. Wisconsin-based companies that received Platinum recognition include J.J. Keller & Associates, Inc., Sauk Prairie Memorial Hospital and Clinics, ThedaCare, Network Health, Logistics Health Inc., Dean Health Plan, and MGIC.

"These employers worked hard to successfully meet the rigorous standards set by the Well Workplace process," said Jessica Raddemann, executive director of the Wellness Council of Wisconsin. "It is our pleasure to recognize them as the newest Wisconsin employers to achieve Well Workplace status."

This Well Workplace initiative recognizes quality and excellence in work site health promotion. WELCOA has established seven benchmarks of results-oriented workplace wellness programs, including:
Capturing CEO support
Creating cohesive wellness teams
Collecting data to drive health efforts
Carefully crating an operating plan
Choosing appropriate interventions
Creating a supportive environment
Carefully evaluating outcomes
For the past six years, Baird has been engaged in the Well Workplace designation in support of WELCOA's Well City Milwaukee initiative. Milwaukee achieved the Well City Award in 2010. Ten other communities have achieved this designation, including Omaha, Neb., Chattanooga, Tenn., Jacksonville, Fla., Hobart, Ind., Lincoln and Kearney, Neb., Gainesville, Fla., Kanawha Valley, W.Va., Bangor, Maine, Morgantown, W. Va., and Racine, Wis. Wisconsin has Well City Fox Cities and Well Oshkosh working toward the designation.

WELCOA was founded over two decades ago as a resource for the nation's employers to turn to for building and sustaining results-oriented work site wellness programs. More than 700 organizations have met the Well Workplace criteria.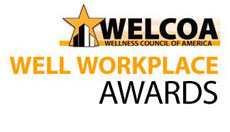 About Baird
Baird is an employee-owned, international wealth management, capital markets, private equity and asset management firm with offices in the United States, Europe and Asia. Established in 1919, Baird has approximately 2,800 associates serving the needs of individual, corporate, institutional and municipal clients. Baird has more than $100 billion in client assets. Committed to being a great place to work, Baird ranked No. 14 on FORTUNE's 100 Best Companies to Work For in 2013 – its tenth consecutive year on the list. Baird's principal operating subsidiaries are Robert W. Baird & Co. in the United States and Robert W. Baird Group Ltd. in Europe. Baird also has an operating subsidiary in Asia supporting Baird's investment banking and private equity operations. For more information, please visit Baird's Web site at www.rwbaird.com.


For additional information contact: