A Glimmer of Hope in the COVID Economy
There are many reasons for Wisconsin municipalities to be hopeful as we begin 2021. The COVID vaccine is moving from development to deployment; property and sales tax revenues have not been decimated by COVID related shutdowns and Aaron Rodgers seems willing to return to Green Bay to attempt to provide a playoff distraction during next year's tax season.
There was an additional beacon of hope signaled by U.S. Transportation Secretary, Pete Buttigieg recently when he addressed a Senate panel and voiced support for restoring tax-exempt advance refunding as part of Federal infrastructure package. Restoration of this popular financing tool could unlock significant debt savings for many local governments in Wisconsin.
Federal tax law provides an incentive to local governments to finance public projects through the sale of tax- exempt municipal bonds. Investors purchase the bonds, in part, to avoid paying income tax on the interest income they receive on their investment. The tax-exempt status of the bonds reduces the interest cost of the borrowing to the municipality.
Tax-exempt bonds commonly have limitations on early redemption (presently between 7-10 years from issuance). The advance refunding structure was created to allow municipalities to refinance debt prior to the early redemption date; most often to take advantage of lower interest rates. This is accomplished by issuing new debt and using the new proceeds to purchase federally secured investments to fund an escrow that is pledged to making the debt service payments on the old debt and prepaying the debt at the earliest redemption date. A refinancing that closes more than 90 days from the prepayment date is considered an advance refunding for federal tax purposes.
In essence, the advance refunding doubles up the amount of debt outstanding prior to the repayment date. If these new bonds are issued as tax exempt debt the federal government is missing out on potential tax revenue and doubles the cost of the subsidy. Prior to 1986, the federal government was not that concerned with this reality. Municipal governments could advance refund outstanding tax-exempt debt with new tax-exempt debt as often as was practical. However, beginning in 1986 (Tax Reform Act of 1986) Congress limited tax-exempt advance refunding to once in the lifetime of a bond and reduced the cost of its subsidy. For the next 30 years municipal issuers judiciously used tax–exempt advance refunding as an effective debt management tool.
This changed in 2018. The Tax Cut and Jobs Act of 2017 eliminated tax-exempt advance refunding altogether. The justification was that the federal government needed the additional revenue to pay for the bill. As a result of that change, municipal governments have had to use taxable debt to refund debt more than 90 days from a repayment date or wait until they are within the 90- day window to refinance with tax-exempt debt. Taxable interest rates are generally higher than tax-exempt rates and will result in a lower level of savings Similarly, waiting for the 90-day window exposes the municipality to market risk; neither consequence is ideal.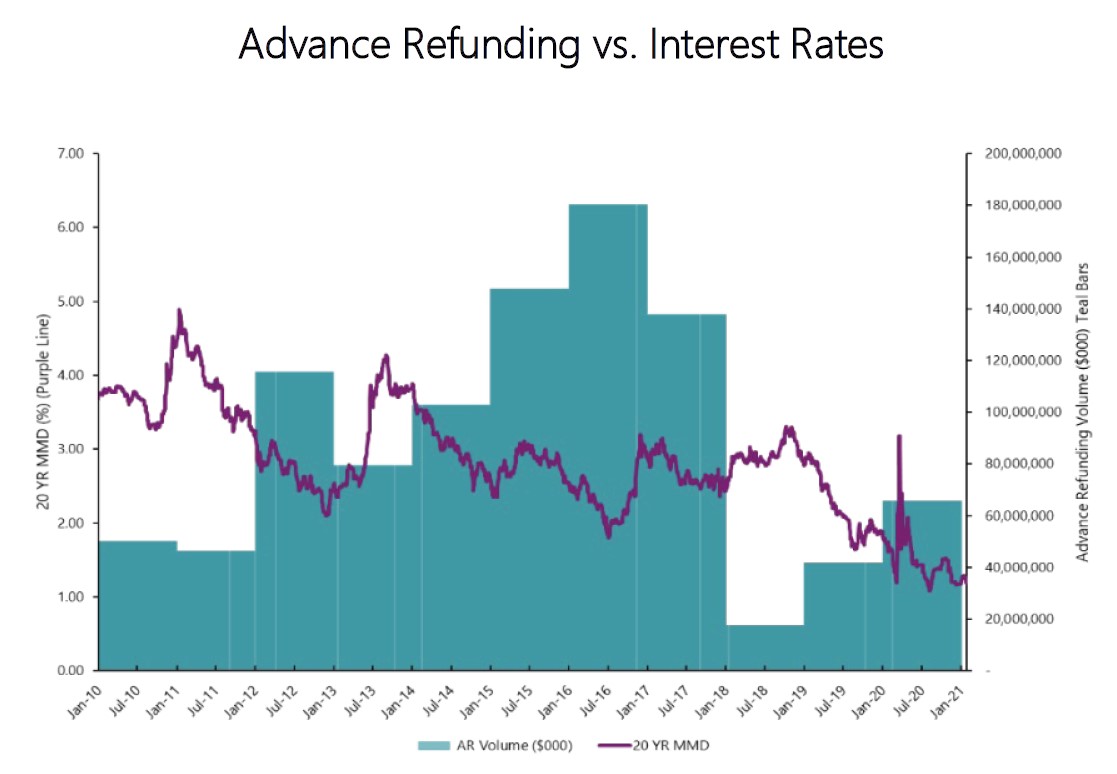 Click to view larger version in new window.
The impact of the change in legislation was evident during the period between September of 2018 and March of 2020. The volume of advance refunding was down considerably between 2018 and the 1st quarter of 2019 even though interest rates declined significantly throughout that period1. It appeared that local governments would not be able to benefit from the reduction in interest rates.
The dramatic fiscal stimulus measures that were implemented at the beginning of the COVID crisis reduced both taxable and tax-exempt interest rates to historic lows. As a result, many municipal borrowers were able to use taxable advance refunding and Cinderella advance refunding (hybrid of taxable & tax-exempt) to realize interest savings. However, there are still many municipal borrowers who have not been able to unlock the available savings without the benefit of tax-exempt bonds.
There are two things that local decision makers can do in anticipation of this change. First, contact your representatives in Congress and voice your support for restoring tax-exempt advance refunding. Secondly, contact your Financial Advisor or Underwriter and identify the savings opportunities that exist in your community. Once the potential savings are identified, establish target savings threshold for action in anticipation of the change in law.
There is room for optimism as Congress begins to craft an infrastructure bill to aid local governments. Restoring the ability to use tax-exempt debt to advance refund debt would restore an effective debt management tool for local governments and ultimately provide resources to stimulate investment in local communities.
---
1Source: Volume via Ipreo MuniAnalytics and includes advance refunding and those issues and Refinitiv Municipal Market Data as of January 27, 2021