Will Stricter Chinese Regulatory Controls Impact Outbound M&A?
March 2017
The Chinese government is tightening its regulatory regime on outbound M&A, amid a wave of foreign deal making that has fuelled capital outflow and exerted downward pressure on the renminbi (RMB) in 2016. The government has not yet announced any new rules, but has made its intention clear. In February 2017, China's Ministry of Commerce (MOFCOM) said that "China's outbound direct investment (ODI) will steadily slow, but be of better quality in 2017."
The Chinese government has signalled that it will restrict certain movements of funds abroad and ease pressure on the country's foreign exchange reserves after a record $170bn of ODI in 2016, much of which comprised outbound M&A into Europe and North America. ODI decreased 36% year-on-year in January 2017, China's foreign exchange reserves increased in February 2017 and the currency has stabilised, suggesting the government's tighter regulatory controls are making progress in slowing capital outflows. How will this affect Chinese outbound M&A activity?
Foreign Direct Investment (FDI) Into and Out Of China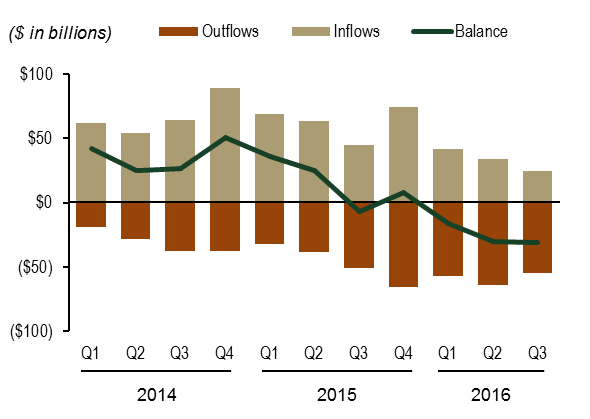 | | |
| --- | --- |
| China Outbound Direct Investment | China Foreign Exchange Reserves |
| | |

Source: People's Bank of China, SAFE, Oanda.
Current Outbound Filing / Approval Process
China's outbound investment regime has been simplified in recent years, though the principle that any outbound investment must be subject to some level of prior review remains. Onshore Chinese buyer entities that need to transfer funds out of mainland China will therefore need to have SPA (sale and purchase agreement) conditionality in any outbound deal. Filing / approval for outbound M&A typically takes 2 to 3 months and is issued by the regulatory bodies below:


Application process with NDRC and MOFCOM in parallel
Central NDRC pre-approval needed before submission of a binding offer over $300m for a foreign target
Once a deal is signed, its completion is subject to verification by NDRC, which can take up to 3 months
NDRC verification can either be a filing process or a more complex approval process
NDRC verification approval process is required for targets in "sensitive regions or industries"; State Council approval is also required for "sensitive" deals over $2bn
Any outbound investment requires a MOFCOM filing, which can take up to 1 month; "sensitive" deals require a more complex MOFCOM approval process
For SOEs, additional filings / approvals may be needed with SASAC, which can take up to 2 months
The foreign exchange registration verification process has been delegated by SAFE to authorised commercial banks
Ad hoc SAFE verifications to distinguish illegal capital outflows from real and genuine outbound investments
Tighter Regulatory Regime
Though the government has not announced new rules and regulatory processes regarding outbound M&A, the application of the filing / approval process has been more tightly controlled since November 2016. We expect increased focus by the regulators on accurate and complete disclosures from Chinese potential buyers:
Stricter regulatory approval – outbound transactions more likely to be rejected include deals valued above $10bn, those above $1bn if they are outside or unrelated to the acquirer's core business / sector or acquisitions made by newly established entities with no business operations. Additional scrutiny will be exerted on foreign acquisitions in real estate, hotels, movie studios, entertainment and sports clubs. The government is seeking to curb "artificial" transactions that are primarily used to move money abroad
Tighter capital outflow control – SAFE will begin vetting cross-border money transfers worth over $5m (vs. $50m previously). The government is seeking to balance foreign direct investment that contributed to a 7% devaluation of the RMB in 2016 despite using its foreign exchange reserves to support the currency
Longer process time – existing rules will be applied more strictly, increasing the outbound filing / approval process from 2 to 3 months that was typical in 2015 and 2016 to 3 to 4 months (or longer) in 2017
Effect on Outbound M&A Activity
Announced Chinese outbound M&A deal count has fallen over 10% year-on-year to 76 deals for the first two months of 2017. However, we expect continued appetite for middle-market M&A transactions with clear strategic rationale.
Since the start of Q4 2016, 66 outbound deals with reported value of $100m to $1bn have closed, while only 5 have been withdrawn for a variety of reasons (see two of the deals below). The ratio of closings to withdrawals since the start of Q4 2016 has been comparable to that of Q1 to Q3 2016, suggesting little impact in the middle-market to date.
Chinese Announced Outbound M&A Activity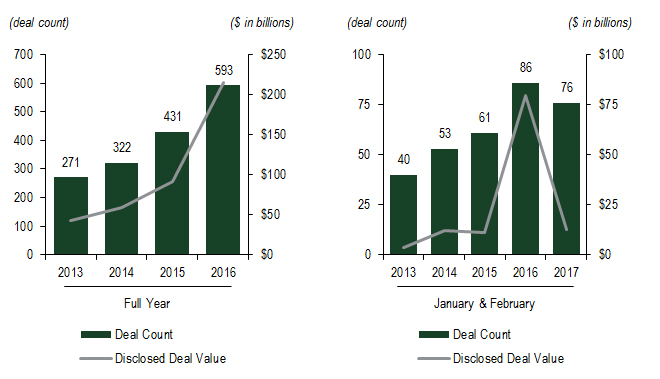 Source: Dealogic.
Selected Chinese Mid-Market Outbound Deals Withdrawn

Cancelled by US government on security / defence grounds.

Failed to supply adequate documentation to Chinese regulators.

Baird anticipates that headwinds from the tighter regulatory regime affecting Chinese outbound M&A activity will last 9 to 12 months and will focus on deals where the government does not see strategic rationale. Our observations, based on recent conversations with Chinese corporates, private equity (PE) firms, law firms and commercial banks, include:
State-owned enterprises with leading market positions in China are still encouraged to move up the value chain in their core business / sector through outbound M&A – SOEs with strong government relationships and lobbying resources are likely to be less impacted by the tighter regulatory regime
Publicly listed Chinese companies are continuing to build outbound deal pipelines and anticipate government support for those transactions that will allow them to strengthen their core competencies globally
Chinese private equity firms are increasingly willing to partner with corporate buyers on outbound deals and are under pressure to deploy capital given their success in raising new funds e.g. AGIC Capital, a PE firm with offices in Munich, Beijing, Shanghai and Hong Kong, raised a $1bn fund in Q1 2017
Importance of Offshore Entities, Funds and Debt Financing
As the RMB is not a freely convertible currency, any outbound transaction that is funded in mainland China requires the conversion of RMB into foreign currency, a process that is managed by SAFE and / or the People's Bank of China, the country's central bank. Chinese corporates or PE firms with offshore (i.e. outside mainland China e.g. Hong Kong, North America, Europe) operational legal entities and funds as well as access to offshore debt financing are well placed to structure foreign acquisitions without the need to go through the outbound filing / approval process described above. If security (e.g. a guarantee) for the offshore debt financing is directly provided by the parent company domiciled in mainland China, then SAFE registration is required.
As well as North America and Europe, Hong Kong is increasingly used as an offshore intermediary for outbound direct investment from mainland China with RMB deposits in Hong Kong totalling $80bn, tenfold the level in 2009. The Hong Kong Monetary Authority manages the region's financial infrastructure and continues to support multi-currency cross-border payment arrangements. Companies headquartered in mainland China that have investment vehicles domiciled in Hong Kong often leverage their offshore entities and funds to optimally structure overseas acquisitions.
M&A Drivers Remain Place
Baird expects robust Chinese outbound M&A to continue despite headwinds from stricter regulatory controls. Many of the drivers that supported record levels of outbound M&A activity in 2015 and 2016 remain in place in 2017:
Globalisation strategies of Chinese state-owned enterprises and privately-owned enterprises (POEs)
Acquiring technology, intellectual property, management know-how and established brands overseas
Liquidity in the debt markets as the benchmark interest rate in China was reduced six times since 2014
Cash-rich Chinese companies and private equity firms under pressure to deploy dry powder
Valuation arbitrage with Western targets trading at lower valuations than publicly listed Chinese stocks
Selected Chinese Mid-Market M&A into North America

Selected Chinese Mid-Market M&A into Europe

Baird's Global M&A
Baird's Global Investment Banking department comprises over 275 professionals across the US, Europe and Asia. We have experience in selling North American and European companies to Asian corporate buyers and PE firms. We understand the steps needed to contact, warm-up and verify the financing capabilities of Chinese potential buyers in our competitive M&A processes. Our knowledge enables us to structure transactions that minimise the time taken for outbound filing / approval processes and maximise the deliverability of a completed transaction for our clients.
Robert W. Baird Limited is authorised and regulated by the Financial Conduct Authority.