European Targets Are Back in Focus
North American Corporates and Private Equity Firms Driving Transatlantic M&A

January 2016
Transatlantic M&A continues to be strong as North American acquirers, both corporate and private equity (PE), spent $170 billion on European targets in 2015. Europe is expected to remain the target region of choice for North American acquirers in 2016 as the EU economy stabilises and concerns over China and emerging markets deepen. Targets in the UK and DACH region account for the majority of transatlantic M&A, followed by France, Benelux and Scandinavia. Middle-market deal opportunities are typically sourced from European private equity firms exiting their portfolio companies as well as carve-outs by European corporates and sales by founder owned businesses.

Source: Dealogic announced M&A transactions.
Corporates Expanding their Global Portfolio
M&A has never been as important as it is now and is an integral part of growth for most corporates in North America as they continue to round out their global portfolio by making acquisitions in Europe, driven by:
Low growth environment – acquisitions complement organic growth and can "move the needle" for corporates
Improving macro environment – GDP growth forecasts of 1.8% for the Eurozone and 2.6% for the UK in 2016
Adding products and services – complementary offerings to provide a one-stop-shop solution to customers
Synergies – cost and revenue synergies such as cross-selling more solutions to existing and new customers
Strong balance sheets – corporates under pressure to utilise large cash piles, including cash reserves in Europe
Favourable regulatory, legal and tax frameworks – lower national corporate tax rates in Europe than the US
Globalisation – companies are increasingly required to sell products and service customers on a global basis
Selected North American Corporate Acquirers in Europe (2015)

Globalisation of Private Equity Firms
PE firms in the US are increasingly looking to acquire in Europe regardless whether they have an office in Europe. The key drivers for such private equity firms seeking and successfully competing for European assets include:
PE firms under pressure to deploy $500bn of dry powder worldwide, the majority of which sits in the US
Competitive, relatively overcrowded, private equity environment in the US, driving firms to look overseas
Continued liquidity in the European debt markets, supporting buyouts of cash generative businesses
Vendor due diligence reports that provide relevant information on the target without upfront buy-side costs
Sector driven private equity firms keen to acquire assets outside of their primary geographic regions
Leveraging experience in the US to accelerate growth of European headquartered businesses in the US
Selected US Private Equity Acquirers (without an office in Europe)

Attractive Attributes of European Targets
High quality companies in Europe can attract significant interest from North American buyers across all sectors, from industrial to consumer. In the DACH region, Mittelstand companies tend to have innovative technology or intellectual property and hold leading worldwide positions within their niche markets. Their export focused sales and distribution networks provide access to new markets, geographies and customers in Europe as well as emerging markets. Online or SaaS (software as a service) business models are accelerating the globalisation of services. Scalable technology platforms in Europe can be rapidly internationalised by a North American corporate buyer through digital marketing and the cross-selling of services. Healthcare / pharmaceutical targets across the supply chain can be particularly attractive to US acquirers that want access to large public healthcare customers in Europe like the UK's National Health Service. Pan-European companies have the expertise to manage operations in multiple countries, each with their own language, regulatory and financial frameworks. North American companies often prefer M&A to the Greenfield route in Europe, entering the continent through an already established European brand.

European M&A Process Considerations
Cross-border M&A requires the ability to manage diversity, including differences in language and corporate culture. Less experienced US acquirers often target assets in the UK first due to similarities in language and culture. North American buyers can increase their chances of a successful transaction in Europe by building relationships at the senior level with the seller, seller's advisor and / or target at an early stage. A good understanding of market standard SPA (sale and purchase agreement) terms across the different countries in Europe can help a North American buyer deliver a compelling combination of price, terms and certainty. Common preferences of private equity sellers in Europe include the use of a locked box mechanism to determine the final purchase price before the signing of the transaction and W&I (warranty & indemnity) insurance to limit their financial exposure after closing the transaction.

Transatlantic M&A Outlook for 2016
US M&A activity accounted for over half of the record $4 trillion of global deal value in 2015. Baird expects middle-market activity to continue in 2016, particularly for transatlantic transactions. North American firms, whether corporate or private equity, can combine a European target with their North American platform to create a leading global player.
For more information about Baird, please contact:
David Silver
Managing Director
Head of European
Investment Banking
+44 207 667 8216
dsilver@rwbaird.com
Chris McMahon
Managing Director
Head of Global M&A
Global Investment Banking
+1 312 609 4983
cmcmahon@rwbaird.com
Tahs Siddique
Vice President
M&A Research
Global Investment Banking
+44 207 667 8402
tsiddique@rwbaird.com

Baird's Global Investment Banking department comprises over 270 professionals across the United States, Europe and Asia. We operate in a fully integrated manner in order to leverage the collective strengths of our M&A advisory, equity financing and debt advisory capabilities through dedicated industry teams. Baird's bankers focus on industries where the bank has deep sector expertise and valuable insights regarding key corporate entities and financial sponsors around the globe. Since 2010, Baird has advised on over 400 M&A transactions, representing over $98 billion. Baird advised on a number of transatlantic transactions in 2015, acting for US corporates on the buy-side and European private equity firms on the sell-side, including: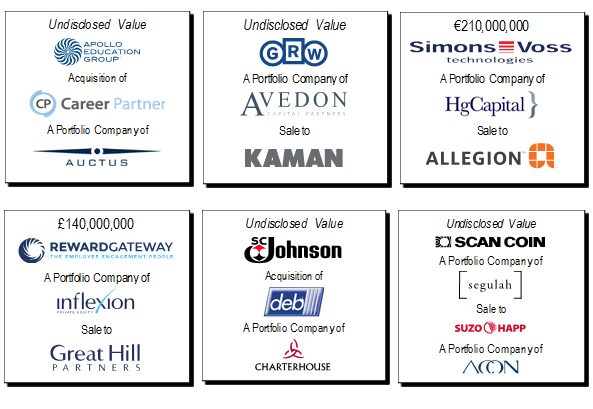 To learn more about Baird's Global Investment Banking capabilities and transactions, please visit rwbaird.com/investment-banking or bairdeurope.com. Robert W. Baird Limited is authorised and regulated by the Financial Conduct Authority.