Baird Ranks No. 14 on FORTUNE's 2011 100 Best Companies To Work For® List
Eighth Consecutive Year Recognized
MILWAUKEE, Jan. 20, 2011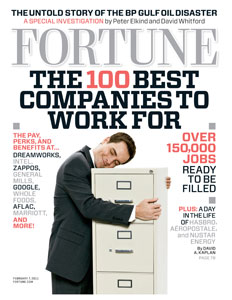 Baird, an employee-owned, international financial services firm, ranks No. 14 on FORTUNE magazine's 2011 list of the
100 Best Companies to Work For®.
This is Baird's eighth consecutive year on the list, a prestigious annual ranking of top U.S. companies based on input from employees and workplace attributes.
According to FORTUNE, what makes Baird so great is: "Employees of the investment adviser praise the integrity that prevails here. 'I have worked with a number of firms,' says one manager,' and Baird [has] the most hard-working, honest, ethical people in our business.'"
"We're honored to be recognized by FORTUNE magazine as a great place to work and to consistently be named to this prominent list during tough economic times," said Paul E. Purcell, Baird Chairman, President & CEO. "Our commitment to being a great place to work enables us to attract and retain the very best people in the industry, which means we can provide the expertise and continuity our clients need and appreciate."
Baird expanded the global reach and breadth of its capabilities, adding new talent and opening offices in new markets in recent years. While many financial services downsized due to the economic downturn, Baird's employment increased 15 percent since December 2007. This includes the addition of more than 150 senior-level professionals (senior vice president and above) across the firm.
"We are extremely proud to be named to the FORTUNE list based on how our associates feel about Baird," said Leslie Dixon, Baird's Chief Human Capital Officer. "Our commitment to being a great place to work, along with our unique culture focused on teamwork, integrity and client service, has helped us create a work environment where talented people want to work and where they can be their very best."
100 Best Methodology
To pick the 100 Best Companies to Work For, FORTUNE partners with the Great Place to Work Institute to conduct the most extensive employee survey in corporate America. Three hundred eleven companies participated in this year's survey. Two-thirds of a company's score is based on the results of the Institute's Trust Index survey, which is sent to a random sample of employees from each company. The survey asks questions related to their attitudes about management's credibility, job satisfaction, and camaraderie. The other third of the scoring is based on the company's responses to the Institute's Culture Audit, which includes detailed questions about pay and benefit programs and a series of open-ended questions about hiring practices, internal communications, training, recognition programs and diversity efforts. Any company that is at least seven years old with more than 1,000 U.S. employees is eligible. The deadline for applying for next year's list is June 15, 2011. For an online nomination form, go to
http://www.greatplacestowork.com/
. Other notable companies on the 2011 list include: SAS, Google, Dreamworks Animation SKG, and Cisco. The full list and related stories appear in the February 7 issue of FORTUNE and online at www.fortune.com/bestcompanies.
A Great Place to Work
Baird's commitment to providing a great workplace starts with the firm's culture, which emphasizes genuine care and respect for our clients and associates. We actively encourage associates to find a balance among work, home and the community, and provide perks such as flexible work arrangements, tuition reimbursement and robust professional development opportunities. We are regularly honored by respected third-party organizations for our commitment to being a great place to work. Just a few examples include:
Alfred P. Sloan Award for Business Excellence in Workplace Flexibility – For three consecutives years, Baird has recognized among the top 20% of employers nationwide in terms of flexible work programs, policies and culture.

Crain's Chicago Business' Best Places to Work – For two consecutive years, Baird has been named to the newspaper's list of the Best Places to Work in the Chicago area.

Milwaukee Journal Sentinel's Top 100 Workplaces – In 2010, Baird ranked No. 3 in the Large Employer category on the newspaper's inaugural Top 100 Workplaces list for South-Eastern Wisconsin.
Core to Baird's culture is a commitment to the communities in which its associates live and work. This caring commitment is a tradition built through the efforts of the firm, the Baird Foundation and the community involvement of Baird associates. As an example, the 2010 United Way of Greater Milwaukee Campaign marked the eighth straight year that 95 percent or more of Baird's Milwaukee-area associates contributed to the campaign. Ninety-five percent of Baird's Chicago-area associates also contributed to the Chicago-area United Way Campaign, and 100 percent of associates in Baird's Cincinnati office donated to the local United Way campaign. Additionally, a record-setting 98 percent of Baird's Milwaukee-area associates donated to the United Performing Arts Fund in 2010. To recognize the generosity and commitment of Baird associates, the United Performing Arts Fund created Robert W. Baird Outstanding Achievement in Employee Giving Award in 2005.

Baird's firmwide Charitable Gift Matching Program provides a match for associates' financial contributions to eligible nonprofit organizations. Associates also receive an additional paid day off each year to perform volunteer service through the "Baird Cares" program.

About Baird
Baird is an employee-owned, international wealth management, capital markets, private equity and asset management firm with offices in the United States, Europe and Asia. Established in 1919, Baird has more than 2,600 associates serving the needs of individual, corporate, institutional and municipal clients. Baird oversees and manages client assets of nearly $79 billion. Baird's principal operating subsidiaries are Robert W. Baird & Co. in the United States and Robert W. Baird Group Ltd. in Europe. Baird also has an operating subsidiary in Asia supporting Baird's private equity operations. For more information, please visit Baird's Web site at rwbaird.com.




FORTUNE is a registered trademark of Time Inc. and is used under license. From FORTUNE Magazine, February 7, 2011 © 2011 Time Inc.
FORTUNE and Time Inc. are not affiliated with, and do not endorse products or services of, Licensee.