Two Baird Investment Bankers Featured as Key Deal Makers in the Sporting Goods Industry
July 8, 2013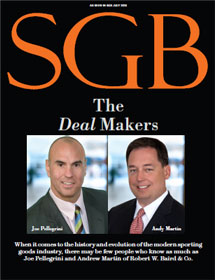 The July 8 cover story of SGB Weekly, the weekly digital magazine for the sporting goods industry, features Baird Investment Banking's Joe Pellegrini and Andy Martin as key deal makers in the sector. Noting Pellegrini and Martin's strong track record and deep industry expertise, the article states:
They have played an important role shaping, reshaping and consolidating the U.S. sporting goods industry to help it lower costs, fund innovation and grow faster than it might have otherwise.
Read the full SGB Weekly article.