Information & Site Security

How We Protect You
Information security is a top priority at Baird. We understand that protecting your personal and account information is an essential part of our commitment to our clients. Our information security teams use advanced technologies and industry-tested processes to provide a defense to protect against electronic fraud.
In addition to the security measures that Baird employs, which are outlined below, the most critical way to protect yourself from online fraud is to safeguard your username, password and access to your email accounts.
TECHNOLOGY
Baird uses layers of industry-standard and leading-edge technologies to help protect your personal information, safeguard your Baird Online data and detect possible fraudulent activity:

Encryption
All Baird Online access sessions are encrypted using SSL (Secure Sockets Layer). Baird employs some of the strongest forms of encryption commercially available for use on the Web today.
Look for a "closed lock" icon in your browser window to determine if encryption is being used on any Web page you are viewing. Any Web address beginning with https:// indicates the page you are viewing uses encryption. The "s" stands for "secured."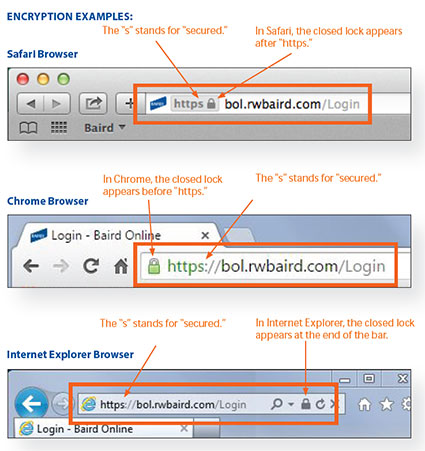 Firewall & Intrusion-Detection Systems
Baird's computer systems are protected 24 hours a day by a powerful firewall that blocks unauthorized entry. We use these firewalls to control who accesses our websites and work with intrusion-detection systems to monitor our network for potentially malicious activities.
Secure Login
Baird Online requires strong passwords, and uses risk-based authentication techniques to help secure your login so that only you control who accesses your online account.
Timed Log-Off
The Baird Online system will automatically log you off after a period of inactivity. This reduces the risk of others accessing your information from your unattended computer.
Fraud Detection and Prevention
Baird uses leading-edge technologies that provide strong authentication and anomaly detection to alert us of suspicious events that do not follow normal patterns of behavior.
To address evolving online threats, we will continue to enhance our security measures to help protect your data.
SECURITY POLICIES AND PROCEDURES
Baird has policies and procedures in place to help prevent the misuse of data and to reduce the risk of fraud. For instance, we will never ask you to verify your account number(s), Social Security number or password(s) via standard email or text messages. Verification of confidential information should only take place in person or via our secure online portal (Baird Online).
PRACTICES AND SECURITY ASSESSMENTS
Baird conducts ongoing, extensive testing of our critical systems, including Baird Online, to proactively find and remediate vulnerabilities. This includes:
Independent reviews conducted by outside security firms
Ongoing scanning and monitoring to protect against known security risks
Application vulnerability assessments
Internal security assessments and technology to monitor and maintain a safe and stable environment.
EMPLOYEE TRAINING
We provide mandatory annual training for our employees on information security best practices, security policies, procedures and event handling.
ADDITIONAL SECURITY MEASURES
Baird's layered approach to online security extends beyond a unique username and password, encryption, firewall, technology updates and ongoing monitoring. We have additional security measures that may be activated in response to certain activities or events.
If we are suspicious of any behavior, we may restrict online access to accounts, prevent certain types of transactions or contact you to verify the validity of certain instructions. These measures are designed to safeguard your identity and your accounts. Further proof of identity may be required before online access is restored.
Please contact your Financial Advisor with any questions.