Sales & Trading Expertise
Closely coordinated teamwork enables us to broaden our account coverage, expand our product offerings and build lasting relationships with clients in a broad range of areas:
Private Client Trading

icon: toggle
An experienced team of 10 private client traders and underwriters working closely with Financial Advisors focus on fixed income market sectors, including:
Certificates of deposit
Corporate bonds
Government and agency bonds
Mortgage-backed securities
Municipal bonds
Preferred stock
Variable-rate demand notes
Private Wealth Management Research

icon: toggle
We provide fixed income market commentary as well as insight on the impact of current events and headline news.
Portfolio Consulting

icon: toggle
Our experts work closely with the trading desk and Baird Financial Advisors to create bond portfolios tailored to clients' individual needs.
Institutional Taxable Sales

icon: toggle
We have more than 60 sales professionals with an average of more than 10 years of experience and a wide range of fixed income managers across the nation, including:
Corporations
Financial and depository institutions
Insurance companies
Investment advisors
Mutual funds
Public funds
Institutional Taxable Trading

icon: toggle
We place a strong emphasis on mortgage trading, focusing exclusively on mortgage and structured products. In all, 13 senior traders and underwriters are active in all sectors of the secondary market, including:
Asset-backed securities
ARMs
Commercial mortgage-backed securities
CMO/Pass-throughs
Corporates
Government/Agencies
Preferred stock
Taxable munis
Municipal Trading/Underwriting

icon: toggle
Baird has 10 senior traders and underwriters actively involved in negotiated and competitively bid bond sales, that price more than 1,000 new issues annually. Our seasoned competitive syndicate bidding team has expanded our reach into more nationally based transactions.
Portfolio Strategies and Analytics

icon: toggle
This group of seasoned professionals provides comprehensive trade and portfolio analysis for institutional clients across all sectors of fixed income. Analyses are extremely sophisticated and reporting is highly customized on a per-client basis.
High-Yield Securities

icon: toggle
Baird's team of more than 35 High-Yield sales and trading professionals works with clients seeking high-yield, investment-grade instruments while mitigating exposure to undue risk. Our group's long-term continuity and extensive industry experience position us to meet the ever-evolving needs of our clients: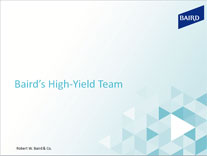 Sales professionals with an average of 20 years of experience in High-Yield
High-Yield traders with an average of 15 years of industry experience
Desk analysts with an average of more than 12 years of experience that cover more than 200 high-yield issuers
Baird provides full-spectrum coverage and extensive capital structure capabilities for a variety of fixed income clients, including:
Convert funds
Crossover funds
Distressed funds
Hedge funds
Insurance companies
Money managers
Mutual funds
Read more about our comprehensive High-Yield platform.
To put our extensive expertise to work for you, contact Pat Lawton.