Public Finance Pennsylvania
Harrisburg
4811 Jonestown Road, Suite 222
Harrisburg, PA 17109
877-792-7506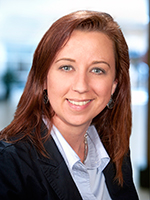 Audrey S. Bear
Senior Vice President

Audrey Bear joined Baird in 2008 and currently serves as the Senior Vice President of the Pennsylvania Public Finance Group. She has served many Pennsylvania issuers since 2000 specializing in general obligation financing. Audrey assists various types of issuers with all aspects of the financing process.
Prior to joining Baird, Audrey served as a financial analyst with Arthurs, Lestrange & Company, Inc. in the Exton, Pennsylvania office. Audrey continued broadening her public finance experience with Ferris, Baker Watts when Arthurs was acquired by Ferris in 2006.
Audrey graduated cum laude from Shippensburg University with a Bachelor of Science and with honors from Penn State University earning a Master's in Business Administration. Audrey is licensed through the Financial Industry Regulatory Authority (FINRA) as a Municipal Securities Representative (Series 52), Municipal Securities Rulemaking Board Municipal Advisor (Series 50) and a Uniform Securities Agent (Series 63).