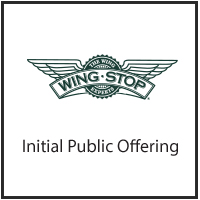 Active Bookrunning Manager
Initial Public Offering
Wingstop, a portfolio company of Roark Capital Group
$126.70 Million

When Roark Capital decided to pursue an IPO for its portfolio company Wingstop, a restaurant franchisor and operator specializing in chicken wings, they hired Baird to assist with the transaction. Roark has had a long-standing relationship with Baird and knew the strength of the firm's Restaurant practice, which includes a highly regarded Restaurant equity research team and a successful track record taking Restaurant companies public.
Baird's task was to uniquely position the business with investors – communicate that Wingstop was a highly differentiated restaurant concept and brand with an attractive asset-light, franchise business model. Baird played an important role helping the Wingstop management team craft a story that was the basis for strong interest from investors at the time of the IPO and in the aftermarket.