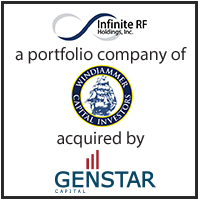 Exclusive Financial Advisor on the Sale of Infinite RF Holdings, Inc., a portfolio company of Windjammer Capital Investors, to
Genstar Capital
Undisclosed amount

Infinite RF Holdings is a niche-oriented, multi-channel supplier of engineering-grade radio frequency and microwave connectors, adapters and custom manufactured cable assemblies. The Company had experienced strong growth in recent years. Baird knew the Company and understood its unique business model. And so when Windjammer and management wanted to look for a new partner to continue the Company's next phase of growth, they turned to Baird.
Baird knew it needed to take a nuanced approach. While compelling, the Company's business model is not intuitive. Additionally, the next partner needed to be committed to continuing the Company's acquisition growth strategy. With its strong knowledge of the Company and its unique model, Baird was ideally positioned to communicate the investment thesis to potential buyers. Ultimately, Genstar Capital proved to be the right partner and Baird's nuanced approach proved effective. Shortly thereafter, Genstar supported the Company in acquiring L-Com, a significant and highlight complementary strategic combination.