Giving Back to Our Community
Baird associates volunteer across Chicagoland
May 2014


More than 250 Baird associates call Chicago home, and Baird proudly supports their passion for giving back and improving lives in the communities where they live and work.
Approximately 30 associates volunteered with Chicagoland organizations during Baird Gives Back Week, an annual firmwide event that brings our associates, relatives and friends together for a week of volunteering activities across the globe. Read on for highlights from the events.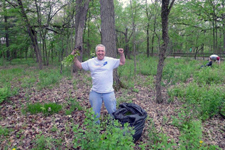 At Brookfield Zoo, Baird volunteers worked together to beautify the grounds.
Brookfield Zoo
Associates pitched in at Brookfield Zoo by clearing invasive weeds on the zoo grounds. "We had a great time and got a lot done!" said Dayna Kleinman, Senior Product Manager – Alternative Investments in Baird's Chicago office. The zoo, which is managed by the Chicago Zoological Society, is home to more than 4,000 animals and welcomed more than 2 million guests in 2013.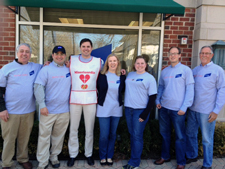 Chicago and Winnetka associates volunteered at Misericordia.
Misericordia
Associates from Baird Capital, Private Wealth Management, Fixed Income and Investment Banking teamed up to support Misericordia, which serves more than 600 children and adults with developmental and physical disabilities in the Chicago area. Baird volunteers worked alongside Misericordia residents, helping them with day-to-day activities and providing care as needed.
"I enjoyed the day tremendously! I came home feeling wonderful and couldn't wait to share my day with my family," wrote Terri Geiss, Registered Client Relationship Specialist, after the event. Howard Lanser, Investment Banker, reflected on his experience with the team: "I share Terri's sentiments; truly one of the best days I have ever had, and it was a blessing to be part of this experience and this team."


Wabash YMCA of Metro Chicago
Baird volunteers spent time with students participating in an after-school program at the Wabash YMCA. Baird volunteers played board games and a variety of indoor gym activities with area kids. The Wabash YMCA is one of 23 member centers operated by the YMCA of Metropolitan Chicago, which also operates five camps and hundreds of extension sites across Chicagoland.

Northwestern University Settlement House (NUSH)
At NUSH, 11 Baird associates worked with children enrolled in the organization's Head Start program, which provides child development services and resources to children ages 3 to 5. The program has served low-income families since 1991 and prepares children for their school career by fostering an inclusive school community and encouraging family involvement in their education.