Investment Philosophy
For both the taxable and tax-exempt strategies, Baird Advisors combines the science of understanding, measuring and controlling portfolio risks with the art of adding incremental, relative value to portfolio returns.

Since interest rates are extremely difficult to consistently forecast over time, the duration of each portfolio is set equal to an appropriate benchmark. Baird Advisors believes this duration-neutral approach offers the most effective way to control portfolio risk and helps ensure a high degree of predictability in tracking benchmark returns.
Baird Advisors seeks to add incremental value over and above those benchmark returns through yield-curve positioning, sector allocation, security selection and competitive trade execution.
Investment Process
We utilize a multi-step investment discipline focused on risk control.
Step 1: Structure portfolio to achieve return of benchmark for each client: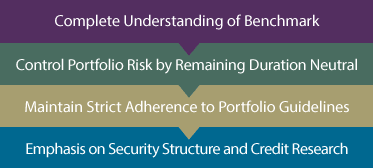 Step 2: Use time-tested process in seeking to add incremental value over benchmark:

Municipal Bond Strategy
Our Municipal Bond Strategy further seeks to control risk by focusing on: