Investment Philosophy
Baird Advisors combines the science of understanding, measuring and controlling portfolio risks with the art of adding incremental, relative value to portfolio returns.

We believe a duration-neutral approach offers the most effective way to control portfolio risk and helps ensure a high degree of predictability in tracking benchmark returns. The duration of each portfolio is set equal to an appropriate benchmark.
Our Investment Process
We utilize a multi-step investment discipline focused on risk control.
Step 1: Structure portfolio to achieve return of benchmark for each client: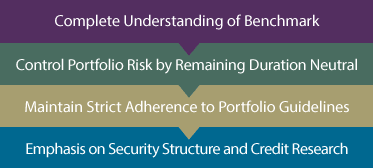 Step 2: Use time-tested process in seeking to add incremental value over benchmark:

Municipal Bond Strategy
Our Municipal Bond Strategy further seeks to control risk by focusing on: