Muni Bond Outlook for 2012
March 2012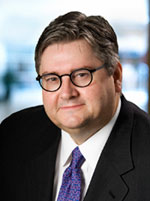 Craig Elder
Fixed Income Senior Analyst
Biography
When can we put 2011 behind us?
Predicting the municipal market in 2011 was anything but easy. The first-ever downgrade of a U.S. credit rating, coupled with little GDP growth in this country and major economic turmoil across Europe brought about high levels of investor fear, creating intense challenges for the market. As the new year begins, some indicators are improving, but getting over the struggles of 2011 will be anything but easy.
2011 review

Total return for municipal bonds and treasuries was good in 2011, as the overall market yield curve collapsed from its high water mark in January. The problem was fear – investors worried about the quality of debt and shied away from those areas with greater risk, such as high-yield bonds, which returned less than 5% overall. This drop was one of many factors that led to low GDP growth in the U.S. – just 1.70%, well below the Fed's target of 2.5-3.5%. Additionally, new issuance of tax-free municipal bonds dropped by 10% in 2011 leaving tax-free investors with less supply.
What to expect in 2012
Fear left over from 2011 will continue to affect markets in 2012. Economic issues in Greece have subsided somewhat, but a number of other concerns remain, particularly in Italy and Spain. Other European issues revolve around Germany and its willingness to bailout struggling countries in the Euro zone; Germany has the money, but German citizens are overwhelmingly against funding a bailout. In addition, Germany is forecasting slow growth in 2012 and 2013, which may make it more difficult to support Europe over the long term. European banks also will remain a concern as they hold much of the debt from the continent's struggling countries.
The Federal Reserve is expected to keep interest rates flat this year. One of the biggest question marks may be in the area of another round of quantitative easing. In 2012 three of the inflation "hawks" will rotate off the Federal Open Market Committee and there are indications that those who replace them may be more in favor of action by the Fed. While many believe that another round of quantitative easing (QEIII) is inevitable, job growth in the past few months is now calling for some to question the need for QEIII, which most likely would be in the form of the Fed purchasing $500 billion of mortgage-backed securities.
Those measures aside, I don't expect much change to take place until after this year's U.S. elections. Wrangling amongst politicians in advance of the election will probably worry investors and keep them from the market prior to the election. In fact, it was political rhetoric in 2011 that led to our nation's debt downgrade. Unlike most downgrades, which occur because of an inability to pay debt, the U.S.'s downgrade was in response to the nation's willingness to pay – money was available, as the U.S. Dollar is a reserve currency, but the White House and Congress chose to fight amongst themselves instead of using it. Too much fighting like this in the future could cause U.S. debt to lose favor if investors fear the debt will not be repaid.
Once the election is final, we believe that market volatility will abate. Historically, bond markets tend to react well to the White House and Congress being held by different parties so, as long as one party does not end up with control of both in November, we should see some positive movement in that regard as well.
While politics play a role in interest rates, we believe that interest rates will be driven by the non-farm payroll numbers and GDP results in 2012. One sign pointing up is that U.S. economic growth picked up in the fourth quarter of 2011, with GDP growth of 3.0%. This may indicate more positive growth going forward.
How to invest in 2012
So long as interest rates remain low, municipal bonds will be better investments than Treasury bonds. Last year's yield collapse in the muni market was still far less than the drop in Treasuries, and those won't recover until interest rates begin to rise. The old adage is that anytime a muni bond is 85% of a Treasury bond, you buy the muni bond – this will continue for some time.
Conclusion
Municipal issuance has started slowly in 2012, although that is partly seasonal. However, there are no indications that it will pick up significantly in the near-term. Many of the factors that made 2011 unpredictable will continue and, unfortunately, many areas of potential resolution won't come until the fourth quarter when U.S. elections take place.