Baird Discusses Outlook for Card Processing Industry, Impact of "Digital Wallet" Ahead of Business Solutions Conference
NEW YORK, Feb. 19, 2013
Baird, an employee-owned international capital markets, private equity, wealth and asset management firm, will host its annual Business Solutions Conference in New York City Feb. 26-27. The conference will bring together institutional and private equity investor attendees to hear presentations from executives representing more than 75 public and privately held companies across a range of sectors including Education, Facility & Industrial Services, Financial Technology Services, Human Capital Services, Information Services, Marketing and Professional Services.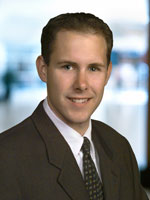 As a preview to the conference, Baird Senior Research Analyst David J. Koning, CFA, who covers Business Process Outsourcing, shares his thoughts on the opportunities and challenges facing the card processing industry given improving consumer spending trends and the growing impact of mobile payment technology.
Overall, why are you bullish on the card payments space?
Over the past 50 years, card payments have consistently taken share from cash/check. Despite the big penetration gains in developed markets like the U.S., Canada, and areas in Europe/Asia-Pacific, growth continues to be robust, outpacing that of retail sales. While growth in developed countries remains quite strong, other international regions are expected to present strong growth opportunities for years to come. The secular trend toward card-based payments continues despite fluctuations in the pace of global retail sales growth. Industry heavyweights like Visa and MasterCard likely will continue to be big benefactors of these trends, given their large market shares and high barriers to entry. Yet we believe that many other companies in the card ecosystem stand to benefit from these trends as well.
How does the rise of mobile payment technology, or "The Digital Wallet," fit into the picture?
We are seeing an increasing appetite for mobile payment technology, especially internationally. Card companies recognize that international markets present a major opportunity for incremental, long-term mobile payment growth. In the U.S., mobile payments have taken a bit longer than expected to progress, due to the complexity surrounding the technology and the fact that it is so easy for consumers to swipe a card at the point of sale. However, we believe consumers will gradually become more comfortable with the idea of paying with a mobile device, or "Digital Wallet," over the next few years.
What might the adoption of mobile technology look like overseas and where specifically are the card companies likely to focus their efforts?
It will be very interesting to watch the speed with which mobile payment technology is adopted overseas. There are billions of people in the world who have cell phones but no bank account. That sets up a very interesting situation where the proliferation of the technology may surpass the penetration of traditional banking services. In certain countries, you could envision the cell phone being used as a banking device with funds deposited directly into a phone-based account. If that occurs, you would have a segment of consumers in underdeveloped countries who might almost totally bypass the entire physical banking system.
Developing countries such as Russia and India are areas where we think companies will focus the most on mobile adoption, since there are much lower barriers to entry due to minimal existing card penetration in these markets. There are also opportunities in countries like Japan where there is a cultural emphasis on mobile technology as well as infrastructure to support integration and adoption by consumers.
Beyond the card processing companies, what impact is mobile technology having on others within the Business Process Outsourcing space?
There is strong market support to move to a more mobile banking system, a reality evidenced by our recently published 2013 Core Processing Survey of financial institutions. In a clear recognition of consumer demand for more convenient access to financial products and services, 83 percent of respondents indicated they expect to invest in new products in 2013. Specific areas they plan to finance are mobile and online banking, remote deposit capture and online account opening. We project that this shift will also help strengthen partnerships between card companies like Visa and merchant processors such as Vantiv and Global Payments.
What are the headwinds facing the card payment sector currently or on the horizon?
As a part of fiscal cliff negotiations, the federal payroll tax was reinstated in 2013. Through January, it hasn't appeared to have caused any impact on card volume growth. For example, First Data indicated accelerating volume growth in January. Our view is that the impact of reduced disposable income will likely have some impact on retail sales growth in 2013 (it may just take a few months to be seen), but some could make a case that the decline in take home pay will lead to consumers making more purchases on credit, an interesting idea that will remain to be seen.
There are also headwinds related to the implementation of mobile technology. The first comes from phone companies, which must invest resources to develop and install technology on consumer devices to easily execute payments. Additionally, merchants must purchase new devices to receive payments. The reality is that these barriers are all tied together and will fade as more resource allocation for mobile is implemented and as technology proliferates during the next couple of years.

About David J. Koning
David J. Koning, CFA, is Baird's senior analyst covering Business Process Outsourcing. Prior to joining Baird in 2002, he was an equity analyst at Holland Capital Management and a commercial lender and commercial credit analyst at Comerica Bank. David received a BA in Mathematics and Business from Calvin College and an MBA with a concentration in Finance from the University of Chicago.
About Baird Research
Baird's Research Department consists of approximately 125 research professionals covering more than 660 U.S. companies. Baird analysts have been recognized repeatedly in The Wall Street Journal's annual "Best on the Street" survey and honored by StarMine as top analysts.

An investment should not be made on this content, as this is not a complete analysis of every material fact regarding any company, industry or security. Please click here for a complete list of the companies Baird covers.
About Baird
Baird is an employee-owned, international capital markets, wealth management, private equity and asset management firm with offices in the United States, Europe and Asia. Established in 1919, Baird has more than 2,700 associates serving the needs of individual, corporate, institutional and municipal clients. Baird had $99 billion in client assets on Dec. 31, 2012. Committed to being a great place to work, Baird ranked No. 14 on FORTUNE's 100 Best Companies to Work For in 2013 – its tenth consecutive year on the list. Baird's principal operating subsidiaries are Robert W. Baird & Co. in the United States and Robert W. Baird Group Ltd. in Europe. Baird also has an operating subsidiary in Asia supporting Baird's investment banking and private equity operations. For more information, please visit Baird's Web site at rwbaird.com.
For additional information contact:
Amy Nutter
Baird Public Relations
414-765-7250