Baird Scores High on Human Rights Campaign's Corporate Equality Index
MILWAUKEE, Jan. 31, 2013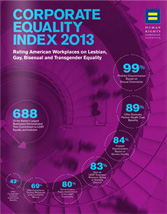 Baird announced today that it scored 90 out of a possible 100 points on the 2013 Corporate Equality Index (CEI), a nationally recognized benchmarking report that rates businesses on creating and maintaining workplace equality for the lesbian, gay, bisexual, and transgender (LGBT) community. The CEI is compiled each year by the Human Rights Campaign, America's largest civil rights organization committed to achieving equality for the LGBT community.
"As a firm with an ongoing commitment to creating a workplace where every associate may be their personal best, it is extremely important that we have policies and practices in place that foster a culture of equality for all associates," said Paul E. Purcell, Baird Chairman, President, & CEO.
Created in 2002, the CEI assesses how well a company's policies uphold equality for the LGBT community as it relates to overall work experience, benefits, and practices. This year, nearly 690 companies were rated in the index, including 69 in the Banking and Financial Services category of which 40 (including Baird) had a score of 90 and above.
For many years, Baird has offered domestic partner benefits for health care, vision and dental insurance and last year hosted a special session on open enrollment options for domestic partner benefits. Baird has also undertaken several additional efforts focused on addressing the needs of LGBT associates. These include: consciously re-working policies and invitations to be more inclusive (using "partner" and "guest" instead of "Spouse"); supporting organizations and events focused on the LGBT community; offering Financial Advisors the opportunity to pursue the Accredited Domestic Partnership AdvisorSM (ADPA) designation. Offered by the College for Financial Planning, the ADPA focuses on financial, estate and investment planning for couples who are considered to be unmarried either by state or federal law, or both. Michael Collins, a Baird Financial Advisor, earned the designation last year and he is one of about 300 professionals in the country who is ADPA designated.
In 2012, the firm also formed Spectrum, an associate resource group of LGBT associates and "straight" allies. The group is committed to providing Baird's LGBT associates and their allies with support, resources and opportunities for professional growth and development, while exploring new opportunities to attract and retain associates and clients in the LGBT community.
"Since we launched Spectrum last year, we've had tremendous interest and involvement from associates and senior leaders in addressing the needs of the LGBT community at Baird," said Michael McNeil, Director of Baird's Capital Markets Technology department and co-chair of Spectrum. "While we still have work to do, we are excited about the future of the group and our ongoing efforts to better the experience of the LGBT community at Baird and for our clients."
The official scores can be found in the Human Rights Campaign's "Buying Guide for Equality" as well as on the organization's website, www.hrc.org
About Baird
Baird is an employee-owned, international wealth management, capital markets, private equity and asset management firm with offices in the United States, Europe and Asia. Established in 1919, Baird has more than 2,700 associates serving the needs of individual, corporate, institutional and municipal clients. Baird had nearly $97 billion in client assets on Sept. 30, 2012. Committed to being a great place to work, Baird ranked No. 14 on FORTUNE's 100 Best Companies to Work For in 2013 – its tenth consecutive year on the list. Baird's principal operating subsidiaries are Robert W. Baird & Co. in the United States and Robert W. Baird Group Ltd. in Europe. Baird also has an operating subsidiary in Asia supporting Baird's investment banking and private equity operations. For more information, please visit Baird's Web site at rwbaird.com.
For additional information contact:
Marianne Foster
Baird Public Relations
414-298-1906