Baird Presents Community Involved Player of the Year Award to Packers Linebacker A.J. Hawk
MILWAUKEE, Wis., May 10, 2012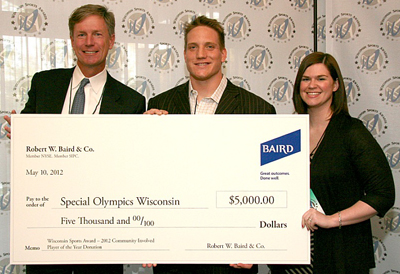 Baird has presented the Baird Community Involved Player of the Year Award to A.J. Hawk who is in his sixth season as a linebacker with the Green Bay Packers. Ahman Green, all-time leading rusher for the Packers who retired in 2011, and Steve Booth, Director of Investment Banking for Baird, presented the award to Hawk at the Wisconsin Sports Awards. The inaugural event, which was created to celebrate excellence in high school, college and professional sports in the state, was held May 10 at the Wisconsin Club in downtown Milwaukee.
Hawk demonstrates his commitment to the community by actively supporting a wide variety of causes. He serves as an official spokesperson for
Special Olympics Wisconsin
, a cause in which he takes a particular interest because his late aunt Kim Hawk was a Special Olympics athlete. In this role, he also attends the State Summer Games opening ceremony annually in Stevens Point, Wis. In recognition of his work with Special Olympics Wisconsin,
Baird Foundation
has donated $5,000 to the non-profit organization in Hawk's name.
"A.J. has been a long-time supporter of Special Olympics Wisconsin athletes and we are honored he has chosen us as his charity of choice," said Dennis Alldridge, President & CEO of Special Olympics Wisconsin. "These funds will allow us to provide sports training and competition opportunities to individuals in Wisconsin with intellectual disabilities."
Additionally, Hawk recently cut and donated his trademark long hair, which he grew in 2005 as a tribute to the late Pat Tillman, the former NFL player who lost his life while serving in the U.S. Army in Afghanistan. Hawk has partnered with
Wigs For Kids
, which provides wigs to kids who lose their hair as a result of medical treatments, health conditions or burn accidents, to launch his own campaign called Hawk's Locks for Kids to encourage similar donations from others.
Other programs Hawk helps support include the Jerry Parins Cruise for Cancer, Donald Driver Foundation, Greg Jennings Foundation, Al Harris Outreach Program, The 2nd & 7 Foundation, Stefanie Spielman Fund for Breast Cancer Research, and more. Green Bay is home to Hawk with his wife Laura and their daughter Lennon.
"Baird is pleased to recognize A.J. Hawk and all that he does to make a difference in the community," said Jim Bell, Director of Baird Foundation. "This award aligns well with Baird's culture and our long-standing tradition of giving back to
the communities in which our associates live and work
, and helping and encouraging others to do the same."
About Baird

Baird is an employee-owned, international wealth management, capital markets, private equity and asset management firm with offices in the United States, Europe and Asia. Established in 1919, Baird has more than 2,700 associates serving the needs of individual, corporate, institutional and municipal clients. Baird has more than $87 billion in client assets. Committed to being a great place to work, Baird ranked No. 21 on FORTUNE's 100 Best Companies to Work For in 2012 – its ninth consecutive year on the list. Baird's principal operating subsidiaries are Robert W. Baird & Co. in the United States and Robert W. Baird Group Ltd. in Europe. Baird also has an operating subsidiary in Asia supporting Baird's private equity operations. For more information, please visit Baird's Web site at
rwbaird.com
.
For additional information contact: