Baird Honors Gerndt with Brenton H. Rupple Citizenship Award
MILWAUKEE, April 30, 2013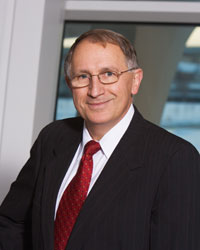 Baird, an international, employee-owned wealth management, capital markets, private equity and asset management firm, has named Gerald L. "Jerry" Gerndt the 2013 recipient of the Brenton H. Rupple Citizenship Award, the firm's highest community service honor. The award, which recognizes one associate each year for his or her outstanding dedication to community service and support, was presented to Gerndt at Baird's Annual Meeting for All Associates on April 16. The award includes a donation from Baird Foundation to the charity of Gerndt's choice.
Gerndt, a Managing Director and Financial Advisor in Baird's Milwaukee office, joined Baird in 2001. He is the 16th recipient of the award, first presented in 1998 to the late Brenton Rupple, Sr., former Baird President and Chairman of the Board. Rupple devoted countless hours throughout his life to more than 40 civic and charitable organizations and college boards.
"The Brenton H. Rupple Citizenship Award honors associates who best represent Baird's culture and commitment to the communities in which we live and work," said Paul E. Purcell, Baird Chairman, President and Chief Executive Officer. "Jerry is a remarkable person who has made enormous contributions to his community and his country. He couldn't be more deserving of this recognition."
After college, Gerndt became a U.S. Air Force fighter pilot and volunteered for duty in Vietnam, flying tactical air support missions. On August 23, 1967, his plane was shot down and he spent the next 5½ years as a prisoner of war. After receiving many of the highest awards bestowed on a military veteran, he received an honorable discharge. Last month marked the 40th anniversary of his release.
Today Gerndt is actively involved with Project Healing Waters Fly Fishing , a non-profit organization dedicated to the physical and emotional rehabilitation of disabled active military service personnel and disabled veterans through fly fishing and associated activities. The organization's mission is a perfect fit for Gerndt who developed a passion for fly fishing growing up as the son of a dairy farmer.
"Being a vet and a POW, Jerry connects with returning veterans because he has been there," said Mike Kuhr who heads the Milwaukee Project Healing Waters program. "He is compassionate and understanding in a way few could be."
Gerndt also has held leadership positions at his church, the Foundation for Wildlife Conservation/Zoological Society of Milwaukee and the Wisconsin Philharmonic. He lives in Mukwonago with his wife Donna. They have two daughters and three grandchildren.
Baird's commitment to the community
Baird has a long-standing tradition of giving back to the communities in which its associates live and work, both on a corporate and individual level. Baird Foundation provides support to charitable organizations and Baird associates actively volunteer in their communities. Baird's firm wide Charitable Gift Matching Program provides a match for associates' financial contributions to eligible nonprofit organizations. Associates also receive an additional paid day off each year to perform volunteer service through the "Baird Cares" program.
Each year, associates team up during Baird Gives Back Week to help with projects such as preparing and serving food, tutoring students, working with seniors, building homes, and cleaning up parks. In 2012, more than 1,300 Baird associates and family members donated 3,700 volunteer hours during the week of May 14-19 to help approximately 100 non-profit organizations.
About Baird
Baird is an employee-owned, international wealth management, capital markets, private equity and asset management firm with offices in the United States, Europe and Asia. Established in 1919, Baird has more than 2,700 associates serving the needs of individual, corporate, institutional and municipal clients. Baird had more than $99 billion in client assets on Dec. 31, 2012. Committed to being a great place to work, Baird ranked No. 14 on FORTUNE's 100 Best Companies to Work For in 2013 – its tenth consecutive year on the list. Baird's principal operating subsidiaries are Robert W. Baird & Co. in the United States and Robert W. Baird Group Ltd. in Europe. Baird also has an operating subsidiary in Asia supporting Baird's investment banking and private equity operations. For more information, please visit Baird's Web site at rwbaird.com.
For additional information contact:
Amy Nutter
Baird Public Relations
414-765-3988