Baird Adds Robert Rosenfeld to Consumer Investment Banking Team
CHICAGO, June 7, 2012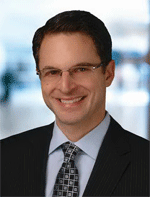 Baird, an international, employee-owned capital markets, private equity, wealth and asset management firm, announced today that investment banker Robert Rosenfeld has joined the firm as a Director on the Consumer Investment Banking team. He will work from Baird's Chicago office.
The addition of Rosenfeld marks Baird's continued growth and expansion in the Consumer sector. Baird recently added two other senior investment bankers,
Jason Abt, Managing Director
, and
Chris Harned, Managing Director
, each of whom have extensive Consumer sector expertise. The firm has completed several high-profile M&A and equity transactions in the Consumer sector recently, including: Augusta Sportswear, Body Central, CamelBak Products, Caribou Coffee, Dunkin' Brands, Ignite Restaurant Group, , Michael Kors, RC2 Corporation, Vera Bradley, Vitamin Shoppe and Wolverine Worldwide.
"We are very pleased that Rob has chosen to continue his career at Baird," said
Steve Booth
, Director of Baird's Investment Banking group. "Over the past several months we've made a considerable effort to expand and enhance our Consumer franchise, including hiring Rob and other seasoned bankers who have a strong track record in the space. These additions in talent continue to pay dividends, as Baird has built tremendous momentum in the sector and is well positioned to earn more market share."
Prior to joining Baird, Rosenfeld was a Director in the Mergers & Acquisitions group for BMO Capital Markets in Chicago, focusing principally on middle market food, consumer and retail clients. He was also a Senior Manager with Cap Gemini (formerly Ernst & Young) where he was responsible for strategic and operational transformations for food, consumer and industrial organizations. Rosenfeld received his MBA with honors from the University of Chicago Booth School of Business and a dual degree in Business (Finance and Marketing) and Liberal Arts (French) from Washington University in St. Louis.
About Baird Investment Banking

Recognized as the 2011 "Investment Banking Firm of the Year" by The M&A Advisor, Baird is a leading global investment bank focused on the middle market. Approximately 200 investment banking professionals in the U.S., Europe and Asia provide corporations, private equity and venture capital firms with in-depth market knowledge and extensive experience in merger and acquisition and equity financing transactions. Since 2007, Baird has advised on over 230 M&A transactions representing $43 billion in transaction value and has served as lead or co-manager on 250 equity offerings raising more than $76 billion. Baird has received "Deal of the Year" recognitions from The M&A Advisor for seven years running, demonstrating commitment to attaining great outcomes for clients.
About Baird

Baird is an employee-owned, international wealth management, capital markets, private equity and asset management firm with offices in the United States, Europe and Asia. Established in 1919, Baird has more than 2,700 associates serving the needs of individual, corporate, institutional and municipal clients. Baird oversees and manages client assets of more than $87 billion. Committed to being a great place to work, Baird ranked No. 21 on FORTUNE's 100 Best Companies to Work For in 2012 – its ninth consecutive year on the list. Baird's principal operating subsidiaries are Robert W. Baird & Co. in the United States and Robert W. Baird Group Ltd. in Europe. Baird also has an operating subsidiary in Asia supporting Baird's private equity operations. For more information, please visit Baird's Web site at
rwbaird.com
.
For additional information contact: