The Paradigm Shift in U.S. Resources


Ethan Bellamy
Equity Research
Senior Research Analyst
The rise of crude oil, natural gas and natural gas liquid production in the United States has reversed a decades-long trend of rising U.S. dependence on energy imports. A confluence of various technological advances in the oil patch - primarily horizontal drilling and hydraulic fracture stimulation of low-permeability reservoirs - has unlocked previously uneconomic hydrocarbon supplies, generally in regions where such supplies were already present in conventional resources, such as the Permian Basin in West Texas.
But the altered resource paradigm has also seen increases in areas where oil and gas drilling has traditionally been relatively limited or marginally economic, such as in the Eagle Ford shale in south Texas, the Haynesville shale in north Louisiana, and the Utica-Point Pleasant shale in eastern Ohio. The godfathers of U.S. unconventional production - The Bakken and the Marcellus - emerged from essentially nothing. The Bakken and Three Forks formations in North Dakota have turned that state into one of the most important magnets for energy capital in the world, with current crude oil production of 670 thousand barrels per day. And in Pennsylvania, the Marcellus shale has grown from zero to six billion cubic feet per day since 2007.
Overall, since the year 2000, natural gas production in the United States has increased from 52 billion to 66 billion cubic feet per day. Oil production has begun to climb again, growing from a modern low of five million barrels per day in 2008 to seven million barrels per day at present. With $100 oil, $4 natural gas and current rates of production, U.S. oil and natural gas production is a $360 billion business. Truly, the game has changed, and the U.S. leadership role in this energy shift is unquestionable.
As shown in the graph below, prices for natural gas in Europe and Japan have trended higher, while the U.S. benchmark price at the Henry Hub in Louisiana remains depressed on the domestic supply surge.
Global Natural Gas Prices Over Time, $ Per Million British Thermal Units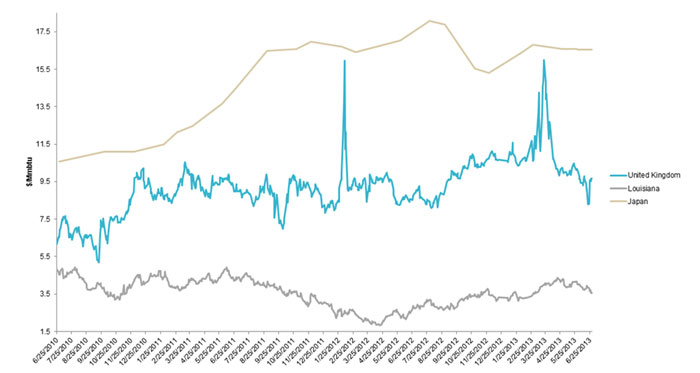 Source: Baird research estimates, Bloomberg data
The Japanese nuclear disaster and a lack of indigenous resources prompted that country's sudden reliance on imported, liquefied natural gas to accelerate growth. In Europe, significant public policy, infrastructure and capital constraints have kept those nations from exploiting what could be material resources, instead affirming their reliance on imported natural gas from Russian supplies. Natural gas is a more regionally priced commodity due to greater shipping and logistical costs between continents via natural gas liquids. Thus, the supply surge in North America has decoupled pricing from global markets. The implications of these low domestic natural gas prices - comparative advantage, balance of trade, national security, economic development, job growth and emissions reductions, among others - are far-reaching and will be addressed in future articles.