Baird Launches Institutional Portfolio Strategy Research
June 5, 2012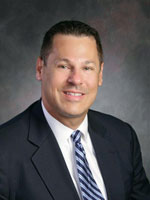 Baird, an international employee-owned capital markets, private equity, wealth and asset management firm, today announced the initiation of institutional portfolio strategy research led by Brian Rauscher, Chief Portfolio Strategist. Rauscher will work alongside Baird's Institutional Equities team to develop and market equity portfolio strategies to institutional clients. Rauscher's unique product is a differentiated, systematic framework that combines fundamental factors, price momentum, traditional macro indicators, and proprietary data analytics to provide equity portfolio strategies at the sector and sub-industry levels.
"We're very pleased to welcome Brian to Baird," said Jon Langenfeld, Director of Research. "Having him in this newly created role enables us to provide even more robust insights and expertise to our institutional clients, thereby enhancing Baird's momentum in the marketplace."
Rauscher's addition underscores the continued growth of Baird's Institutional Equities & Research business, which delivers research, sales and trading expertise to domestic and international institutions. In 2011, the group posted its 17th consecutive year of record revenues and grew overall trading volume by 9 percent despite macro challenges, including often extreme volatility in the equity markets. Baird research analysts cover more than 670 stocks -- an increase of 33 percent over the past five years -- and the firm expects continued research growth in 2012.
Biography – Brian Rauscher

An 18-year industry veteran, Rauscher's work experience includes Morgan Stanley, Brown Brothers Harriman, and Fortress Investment Group. He most recently served as Chief Portfolio Strategist at Wedge Partners. He earned his Bachelor's and MBA degrees from Temple University in Philadelphia. He will be based in Baird's New York City office.
About Baird

Baird is an employee-owned, international wealth management, capital markets, private equity and asset management firm with offices in the United States, Europe and Asia. Established in 1919, Baird has more than 2,700 associates serving the needs of individual, corporate, institutional and municipal clients. Baird oversees and manages client assets of more than $94 billion. Committed to being a great place to work, Baird ranked No. 21 on FORTUNE's 100 Best Companies to Work For in 2012 – its ninth consecutive year on the list. Baird's principal operating subsidiaries are Robert W. Baird & Co. in the United States and Robert W. Baird Group Ltd. in Europe. Baird also has an operating subsidiary in Asia supporting Baird's private equity operations. For more information, please visit Baird's Web site at
rwbaird.com
.
For additional information contact: