Charlie Weber Named a "Branch Manager of the Year" by On Wall Street
CEDAR RAPIDS, Iowa, May 6, 2010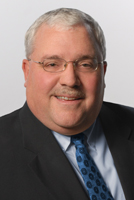 Baird, an international, employee-owned wealth management, capital markets, private equity and asset management firm, announced today that Charlie Weber, CFP®, Senior Vice President and Branch Manager of the firm's Cedar Rapids branch, has been recognized by On Wall Street magazine as one of 10 "Branch Managers of the Year." Weber is the only branch manager from the Midwest recognized for excellence and achievement in branch management. Weber was honored at an awards dinner April 20 in New York City, and is recognized in the magazine's May issue.

"Charlie has done a great job leading our Cedar Rapids office by example, as well as developing the members of his office to become even stronger," said Michael J. Schroeder, President of Baird Private Wealth Management. "This recognition is well deserved, and we congratulate him and his team."

Weber joined Baird in 1992 as a financial advisor and has nearly 20 years of experience in the financial services industry. In addition to serving as branch manager, he is a member of The Weber Nieland Group. Weber's leadership was instrumental in guiding his team, including seven financial advisors, through the floods that destroyed their office in the summer of 2008 and the turbulent financial markets that followed. The grand opening of a new Baird office in downtown Cedar Rapids was celebrated last summer. Prior to joining Baird, Weber worked for a major corporation where he had full management responsibilities for a $50 million business.

Weber has a bachelor's degree in business from Iowa State University and an MBA from the University of Iowa. Additionally, he completed Baird's Investment Consultants Program at the University of Chicago Graduate School of Business and earned the CERTIFIED FINANCIAL PLANNERTM certification. He has been actively involved in the Cedar Rapids community through organizations such as Theatre Cedar Rapids, Greater Cedar Rapids Foundation, the Eastern Iowa Enterprise Council and the American Cancer Society. A resident of Cedar Rapids, Weber and his wife, Deb, have three children, Holly (son-in-law Nick Carfrae), Sara and Ben, and two grandchildren, Laila and Charli.

Branch managers on the list are recognized by On Wall Street for "their commitment to excellence in creating an effective and competitive branch-wide marketing strategy; their ability to identify, recruit, develop, retain and reward talented advisors; their dedication to the goal of providing superior client service."

About Baird
Baird is an employee-owned, international wealth management, capital markets, private equity and asset management firm with offices in the United States, Europe and Asia. Established in 1919, Baird has more than 2,400 associates serving the needs of individual, corporate, institutional and municipal clients. Baird oversees and manages client assets of more than $75 billion. Committed to being a great place to work, Baird ranked number 11 on FORTUNE's "100 Best Companies to Work For®" in 2010 – its seventh consecutive year on the list. Baird's principal operating subsidiaries are Robert W. Baird & Co. in the United States and Robert W. Baird Group Ltd. in Europe. Baird also has an operating subsidiary in Asia supporting Baird's private equity operations. For more information, please visit Baird's Web site at www.rwbaird.com.
For additional information contact:
Amy Nutter
Baird Public Relations
(414) 765-3988