Baird to Host 40th Annual Industrial Investment Conference
Senior Industrial Analyst Rob McCarthy Discusses Industrial Stocks, Offers Perspective on Challenges and Opportunities for the Sector
CHICAGO, Nov. 1, 2010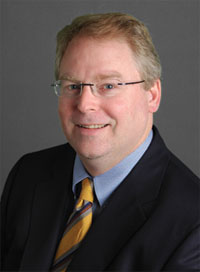 Baird, an employee-owned, international capital markets, private equity, wealth and asset management firm, will host its 40th annual Industrial Conference in Chicago Nov. 9-11. The conference brings institutional and private equity investors together with senior management from more than 100 leading public industrial companies including leaders like Caterpillar, Illinois Tool Works and Johnson Controls.
The conference will include presentations from companies representing the following segments: General Industrial, Diversified Industrial and Manufacturing, Industrial Distribution, Process Controls, Process Technology, Containers & Packaging, Auto & Truck and Transportation/Logistics.
As a preview to the conference, Baird spoke with senior research analyst
Rob McCarthy
about his outlook for industrial companies as they emerge from a challenging economic cycle.
Q&A with Senior Industrial Analyst Robert F. McCarthy, CFA

What are you seeing from Caterpillar, a leading company in this sector, coming out of this economic cycle?

Modern management techniques and superior manufacturing technologies have permeated more traditional rust-belt companies. While we've yet to see the full benefit of Lean Manufacturing and other process improvement methodologies at
Caterpillar Inc. (CAT),
these upgrades have already helped them manage the business through the worst economic downturn in years. Additionally, I believe it will help them emerge stronger relative to their competitors and past cycles. Our thesis is that emerging from this cycle; Caterpillar will deliver enhanced performance and maintain operating leverage longer than prior cycles.
What is Caterpillar doing differently this time?

Caterpillar is moving to a new centralized distribution approach called the "Lane Strategy" where different products are produced and move at different speeds. Both Caterpillar and dealers should ultimately benefit from a reduced investment in inventory. Early results look good as dealers have adopted it faster than projected.
Caterpillar also came into the cycle with a stronger mix of businesses. They strategically exited their on-highway engine business which was lagging and they're expanding into mining products. We are also optimistic about the potential for incremental growth due to Caterpillar's acquisition of Electro-Motive Diesel (EMD), originally the locomotive division of General Motors. Electro-Motive Diesel is one of only two major diesel freight locomotive manufacturers globally. Caterpillar also owns Progress Rail, which has made them a major player in refurbishing rail components and re-manufacturing original equipment. Indeed, the Chinese government selected them to help develop an indigenous remanufacturing industry. Caterpillar is now in a position to make a strong case directly to their customers for the potential of a single engine solution.
In the industrial sector overall, how important are emerging markets to drive incremental growth?

This is hugely important to Caterpillar and others.
Joy Global Inc. (JOYG)
and
Bucyrus International, Inc. (BUCY)
will benefit by selling mining equipment to produce the commodities to fuel this growth. Everybody is making a substantial effort to do better to penetrate and capture growth including direct investments mainly in China, India and Brazil. Russia is a little behind, but
Deere & Company (DE)
has built a tractor assembly plant there. If China isn't already a major driver of growth for a given manufacturer of industrial products, it will be. This is largely true for most of the companies we follow across our industrial coverage universe.
The critical threat for leading Western public companies is the development of indigenous manufacturing, particularly in China. The scale of opportunity is much larger now and includes exporting to other emerging markets. The traditional Western companies can be a threat to Chinese companies, as they often have stronger distribution partners and offer more capable products. This is what their customers in the developing world will want as they become more sophisticated.
What about M&A activity in this environment?
While it is rational to expect an increase in M&A activity, the short-term overhang created by massive uncertainty emanating from Washington keeps visibility limited and constrains activity. It is harder for companies to make long-term decisions when there is uncertainty about benefits costs and the after-tax cost of capital. Once policy issues are decided, up or down, companies can better determine the appropriate level of capital investment. We think the election might represent an important inflection point to establish better visibility. We are predicting more M&A activity in 2011, but we believe most companies will remain relatively more cautious as the roadside is littered with big acquisitions that didn't work out.
What are the implications of a weak dollar?

Where the dollar is going is important both near term and long term. Inflation is notoriously good for machinery companies, and the strong commodity price growth would especially benefit mining machinery companies like Joy Global and Bucyrus.
You recently published a survey about the outlook for road construction, suggesting business conditions there remain difficult. Can you share your perspective on what this means for the sector?
86% of surveyed road construction machinery users expect their revenue to decline in 2011, with 60% reporting lower backlogs. Most respondents listed passage of a new, six-year highway bill as one of their top-three concerns.
Astec Industries, Inc. (ASTE)
has by far the largest exposure to the U.S. road construction market on our coverage list, followed by Caterpillar and
Terex Corp. (TEX).
Survey results imply business conditions remain quite difficult; near-term improvement appears to be dependent on either government spending catalysts (like a new highway bill or depreciation incentives) or an improving general construction environment.
About Robert McCarthy, CFA, and Baird's Equity Research Team

Rob McCarthy is Baird's senior analyst covering Diversified Industrial & Machinery. Prior to joining Baird in 2001, McCarthy was a senior industrial sell-side analyst at ABN AMRO Inc. for seven years, and before that was a senior capital goods analyst at Duff & Phelps Investment Research Co. In the 2006 Forbes.com/StarMine rankings, he ranked No. 3 for his stock-picking skills in Machinery and was on the list for the third consecutive year. He has also been recognized by
The Wall Street Journal
and was named the fourth most accurate earnings estimator among all analysts covering any sector in 2005 by Forbes. He received a Bachelor of Science degree in Marketing from Miami University and an MBA from the University of Chicago Graduate School of Business.
In addition to McCarthy, Baird's Senior Industrial Analysts include Michael Halloran, CFA, Process Controls; Jon A. Langenfeld, CFA, Transportation/Logistics; David Leiker, CFA, Auto/Truck.; Peter Lisnic, CFA, CPA, General Industrial; David Manthey, CFA, Industrial Distribution; and Gransham Panjabi, PhD, Containers & Packaging.
Baird's Research Department consists of approximately 110 research professionals covering more than 600 U.S. companies. Baird analysts have been recognized repeatedly in
The Wall Street Journal's
annual "Best on the Street" survey and honored by StarMine as top analysts.
Please review the
research disclosure
for information on investment ratings, risk ratings, analyst compensation and other issues relating to research reports prepared for Baird clients.
About Baird

Baird is an employee-owned, international wealth management, capital markets, private equity and asset management firm with offices in the United States, Europe and Asia. Established in 1919, Baird has more than 2,500 associates serving the needs of individual, corporate, institutional and municipal clients. Baird oversees and manages client assets of nearly $75 billion. Committed to being a great place to work, Baird ranked number 11 on FORTUNE's "100 Best Companies to Work For" in 2010 – its seventh consecutive year on the list. Baird's principal operating subsidiaries are Robert W. Baird & Co. in the United States and Robert W. Baird Group Ltd. in Europe. Baird also has an operating subsidiary in Asia supporting Baird's private equity operations. For more information, please visit Baird's Web site at
www.rwbaird.com
.
For additional information contact:
Amy Nutter
Baird Public Relations
414-765-3988