Baird Names Peter Kies Co-Head of Equity Capital Markets
MILWAUKEE, Aug. 9, 2010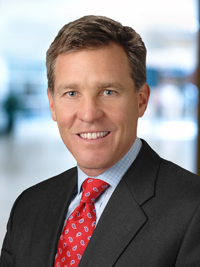 Baird, an employee-owned, international capital markets, private equity, wealth and asset management firm, today announced that it has named Peter S. Kies, Managing Director,
Co-Head of the firm's Equity Capital Markets team. Kies, who has worked at Baird for the past 18 years, will be responsible for jointly overseeing the firm's equity transaction business alongside Greg Ingram. Kies will focus on the services and consumer
sectors and Ingram will continue to focus on healthcare, technology and other emerging
growth sectors.
Previously, Kies built Baird's successful Facility, Industrial and Rental Services Investment Banking practice where he led a variety of financing and advisory assignments, including public and private equity transactions, buy-side and sell-side transactions, and strategic financial advisory engagements. He is a member of the Baird Foundation Board and chairs the Investment Banking recruiting committee. Going forward, Kies will continue to oversee the Facility, Industrial and Rental Services practice.
"We are very excited to have Peter lend his talents and knowledge to the Equity Capital Markets team," said Bill Mahler, Institutional Equity Services Director. "Our footprint in the marketplace continues to expand rapidly, and adding a veteran talent like Peter is another significant step in strengthening our competitive position."
Steve Booth, Director of Investment Banking added, "Peter is ideally suited to join Greg in leading our equity origination effort. Their respective skills and experiences are highly complementary. Peter will be able to leverage his 20-plus years of corporate finance experience and continue his unique ability to creatively and efficiently position Baird to capture
new opportunities."
Before joining Baird in 1992, Kies was a Director of Investments for The Equitable and was on the staff of former Wisconsin Gov. Tommy G. Thompson. He received a BBA and an MBA from the University of Wisconsin.
About Baird
Baird is an employee-owned, international wealth management, capital markets, private equity and asset management firm with offices in the United States, Europe and Asia. Established in 1919, Baird has more than 2,400 associates serving the needs of individual, corporate, institutional and municipal clients. Baird oversees and manages client assets of more than $78 billion. Committed to being a great place to work, Baird ranked number 11 on FORTUNE's "100 Best Companies to Work For"
®
in 2010 – its seventh consecutive year on the list. Baird's principal operating subsidiaries are Robert W. Baird & Co. in the United States and Robert W. Baird Group Ltd. in Europe. Baird also has an operating subsidiary in Asia supporting Baird's private equity operations. For more information, please visit Baird's Web site at
www.rwbaird.com
.
For additional information contact:
Anne Crago
Baird Public Relations
414-298-6081