Baird Adds Bill Welsh to Lead San Francisco Wealth Management Office, Continues Growth in the Bay Area
SAN FRANCISCO, July 15, 2010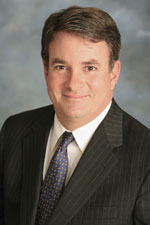 Baird today announced that industry veteran William "Bill" Welsh, Director, has joined the firm to lead a San Francisco wealth management office. The addition of Welsh, formerly of Wells Fargo, demonstrates Baird's continued growth in the Bay Area. Welsh, who has more than 25 years of industry experience, will oversee the branch as a non-producing manager.
Welsh spent the last three years as the Regional Sales Manager at Wells Fargo Private Bank in San Francisco. Prior to his time at Wells Fargo, he managed Bear Stearns & Co's Private Client Services office in San Francisco. Welsh also spent 20 years with Lehman Brothers where he held a number of senior management roles in New York and San Francisco. His most prominent role at Lehman was as Regional Manager responsible for building Lehman's Private Client business in the Western U.S.
"We are pleased to welcome Bill to Baird and continue our growth in California and the Bay Area," said
Michael J. Schroeder
, President of Baird Private Wealth Management. "Under Bill's leadership, we will continue our strategic expansion, bringing our broad array of services closer to current and prospective clients and creating additional opportunities for talented professionals interested in joining Baird."
Michael J. Schroeder, President of Baird Private Wealth Management added, "Bill is a tremendous addition to our Private Wealth Management branch management team and to Baird. With his institutional and wealth management background, he is a good match for Baird and its five complementary businesses. We're very pleased he has chosen to continue his career at Baird."
Baird, an international, employee-owned wealth management, capital markets, private equity and asset management firm, continues to expand its footprint in northern California. The firm operates six offices in the region – two equity and fixed income capital markets offices in San Francisco, an investment banking office in Palo Alto, and three wealth management offices in the greater Sacramento area. Since 2007, Baird has added a number of senior level associates in the Bay Area including a
new Co-Head of equity capital markets, several technology and clean technology investment bankers and equity research associates
, and
a number of veteran equity traders
.
"I'm very excited to continue my career at Baird," Welsh said. "I was attracted to the firm by the caliber and sincerity of the people and the pride in being a part of an independent, employee-owned firm. I also was impressed by the Firm's commitment to the Bay Area, demonstrated by the number of high quality professionals that have joined over the past few years. Given the current dearth of mid-size, full-service firms, Baird is ideally positioned to succeed in California."
Baird's
Private Wealth Management
business continues to grow around the country:.
Baird added more than 100 Financial Advisors to its Private Wealth Management group in 2009, the vast majority of whom are industry veterans.

The firm has added 36 Financial Advisors and Branch Managers since the beginning of 2010.

Since the beginning of 2009, Baird has opened or announced plans to open wealth management offices in several new markets. New office locations include Winston-Salem, Denver, Sacramento, Calif., Lynchburg, Va., and Baltimore and Easton, Md., among others. In addition to Charlotte, the firm also has announced plans to open offices in Raleigh, N.C., Portland, Ore., and St. Paul, Minn.
About Baird Private Wealth Management
Using a consultative approach, Baird's more than 650 Financial Advisors deliver comprehensive wealth management solutions to clients nationwide. They have the resources to oversee the complete financial picture for high-net-worth families and individuals with complex financial needs. Baird Financial Advisors managed and oversaw more than $58 billion in client assets as of March 31, 2010.
About Baird

Baird is an employee-owned, international wealth management, capital markets, private equity and asset management firm with offices in the United States, Europe and Asia. Established in 1919, Baird has more than 2,400 associates serving the needs of individual, corporate, institutional and municipal clients. Baird oversees and manages client assets of more than $78 billion. Committed to being a great place to work, Baird ranked number 11 on FORTUNE's "100 Best Companies to Work For" in 2010 – its seventh consecutive year on the list. Baird's principal operating subsidiaries are Robert W. Baird & Co. in the United States and Robert W. Baird Group Ltd. in Europe. Baird also has an operating subsidiary in Asia supporting Baird's private equity operations. For more information, please visit Baird's Web site at
www.rwbaird.com
.
For additional information contact:
Anne Crago
Baird Public Relations
414-298-6081