As a global firm, we recognize that attracting and retaining associates with different backgrounds and varied perspectives not only fits our culture, but gives us a better understanding and appreciation for the unique needs of our clients.
Our commitment to diversity isn't just right for our clients – it's right for our associates, creating an environment where we learn from each other.
It's also right in caring for our community, as different eyes see different ways to make a difference.
Baird's commitment to diversity stems from a strong culture of integrity, genuine concern for others and respect for the individual. That commitment is reinforced by the dedication of our executives on our Diversity Steering Committee as well as the many associates from throughout the firm who volunteer to serve on our Business Diversity Council.
We don't just respect our differences, we value them. And we believe diversity creates great outcomes for everyone we serve.

To learn more about Baird's long-standing commitment to diversity, read our Diversity Statement.
Associate Resource Groups (ARGs)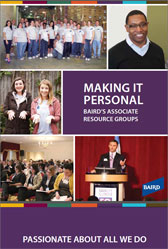 Baird's commitment to diversity – and belief that the best ideas come from people with different backgrounds and perspectives – drove the creation of our Associate Resource Groups.
With membership open to all associates, ARGs bring people together for dialogue around a specific interest or topic, including professional and personal development, education, community service, networking and leadership opportunities.
Our five distinct ARGs give our associates a voice and our firm a unique focus:
Baird Gives Back – Focused on community involvement.
Women ARG – Focused on developing women at all levels and enabling Baird to become the employer of choice for women in the financial services industry. Learn more.
PRISM – Focused on providing Baird associates of under-represented ethnicities with support, resources and opportunities for professional growth and development.
Spectrum – Focused on providing support, resources and opportunities for professional growth and development to Baird's lesbian, gay and related associates.
ECO – Fosters an awareness of how natural resources are used in Baird's day-to-day operations, and to promote policies and procedures that are both financially and environmentally responsible.
Each ARG has a leadership group and a senior management champion to guide the planning and organization of events, activities, projects and idea sharing. Hundreds of associates from numerous firm locations participate in ARGs and related events.